My grandmother's obituary was in the newspaper over the weekend and I finally looked it up online Tuesday. I didn't know my grandmother was so involved with her church and did so much for them and her community over the years and especially after her husband and young son died in a tragic car accident. She was left a widow with 3 young boys in a time when single mothers were not the norm. My eyes welled up with tears and I swelled with pride when I read about her accomplishments which I have excerpted below. I think she is inspirational in the hardships she overcame and yet she was so humble as to not boast about her good deeds. I really hope she is at peace now in heaven with her husband, son, and 1/2 sister frolicking in the clouds, painting, and playing her hand bells.
I have one of the last items she painted at my house on our front porch. She made Alexi and I a birdhouse painted hunter green to go along with our shutter colors as part of a house warming gift to us. I will cherish it always...this picture of it is kind of crappy, but it's on the bottom of my garden rack.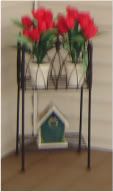 "Her main stay was her faith in the Lord and she was an active member of the *** Congregational Church in *** for over 60 years. She served as a Sunday School Superintendent, sang in the church choir, when needed served as a substitute organist, directed the Junior Choir and played in the hand bell choir for many years. She was active in the Prayer Shawl Ministry and was a member of the Ratcliffe Guild, the Whats-So-Ever Club and the Lunch Bunch.
In the 1960's, following the tragic death of her husband and son, she was very instrumental in a major renovation project at the church. She helped oversee the addition of Sunday school classrooms, the church parlor and fellowship hall, complete with a kitchen. "Sweet Hall" was attached to its original building to where it stands today.
A resident of *** for over 60 years, Eleanor enjoyed painting, tole painting being her favorite. She was also an avid knitter, enjoyed playing and teaching piano and playing the accordion. Mrs. T was a former Girl Scout leader and led many *** girls (including my own mother!) from the starting point of a Brownie to becoming a full-fledged senior Girl Scout. She loved children and had donated over 200 hand made baby booties and hats for newborns at *** Hospital. Her proudest accomplishments were the ways in which she raised her devoted sons as a single mother and reaching out and helping other children in many different ways."