I'm the one in our relationship that typically comes up with special projects for us to undertake together. A.R. simply comes up with more electronic gadgets for us to buy...his latest dream gadget is a 58" flat panel TV which he emails pictures of daily and points out while we are in various stores. First, it was a 46" that he HAD to have. Then, he talked me into getting a 52" inch and now I think he's pushing his luck with a 58" on his wish list. We plan on purchasing a flat panel to go above our family room fireplace at the end of the month and I think he's going to win on getting the 58". Sneaky. He knew I'd cave. Especially after he had two of his brothers coerce me. Plus, I don't really think I have much choice in the matter after all the sweat, blood (yes, my DH has scars from our garden already!), and aggravation that went into starting up my latest project for us.
The seedlings start to grow!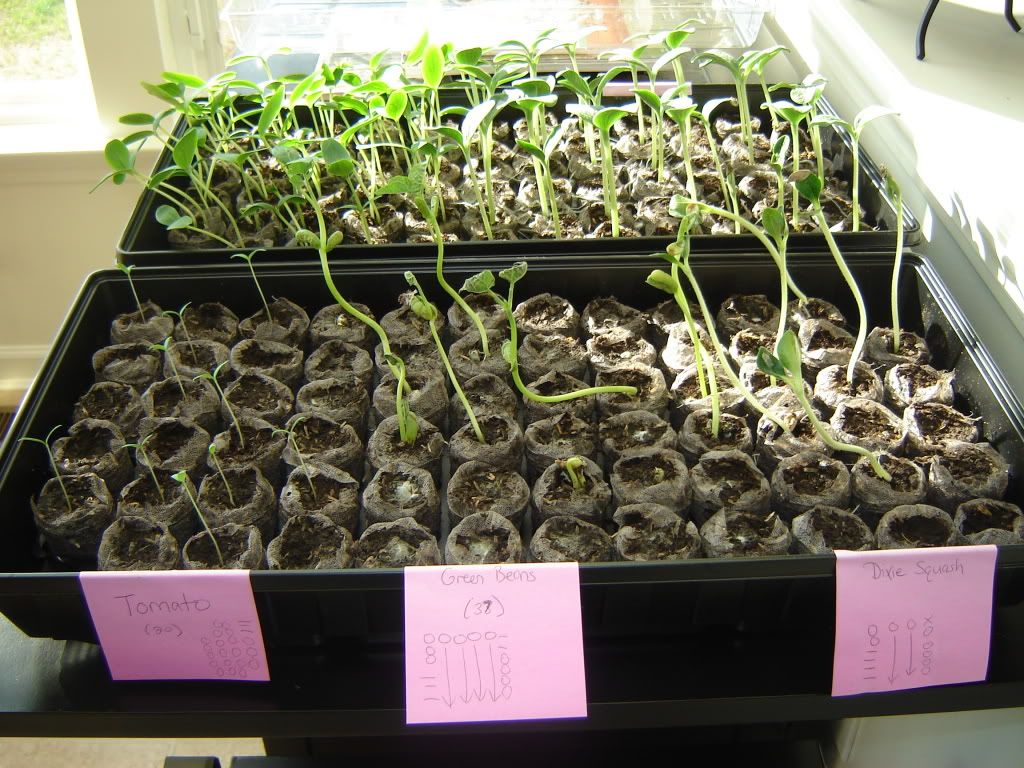 "My" vegetable garden has now turned into "our" vegetable garden and after all the work we put in just starting it, we both have a greater apprecation for all the farmers out there in America and the world. Gardening is NOT easy, but we're hoping in a few months it WILL be rewarding if only we can get one vegetable after all the labor we've put in. I think I was a bit ambitious with our first garden and perhaps we both got a little over-excited over the thought of fresh, home grown tomatoes. This year's garden will consist of green beans, cucumbers, Dixie Squash, Butternut Squash, tomatoes, carrots, and pumpkin. I started all the seeds indoors myself in special trays. Much to my surprise a lot more of them then I anticipated actually grew, so I didn't transplant all of them. Of course we tilled and planted in the middle of a mole's wonderland, so we'll be fighting the rodents for the fruits (er, vegetables) of our labor!
Farmer A.R. with his hoe in hand...he hates this pic. LOL!
Two freshly hoed rows, with strings line up for two more...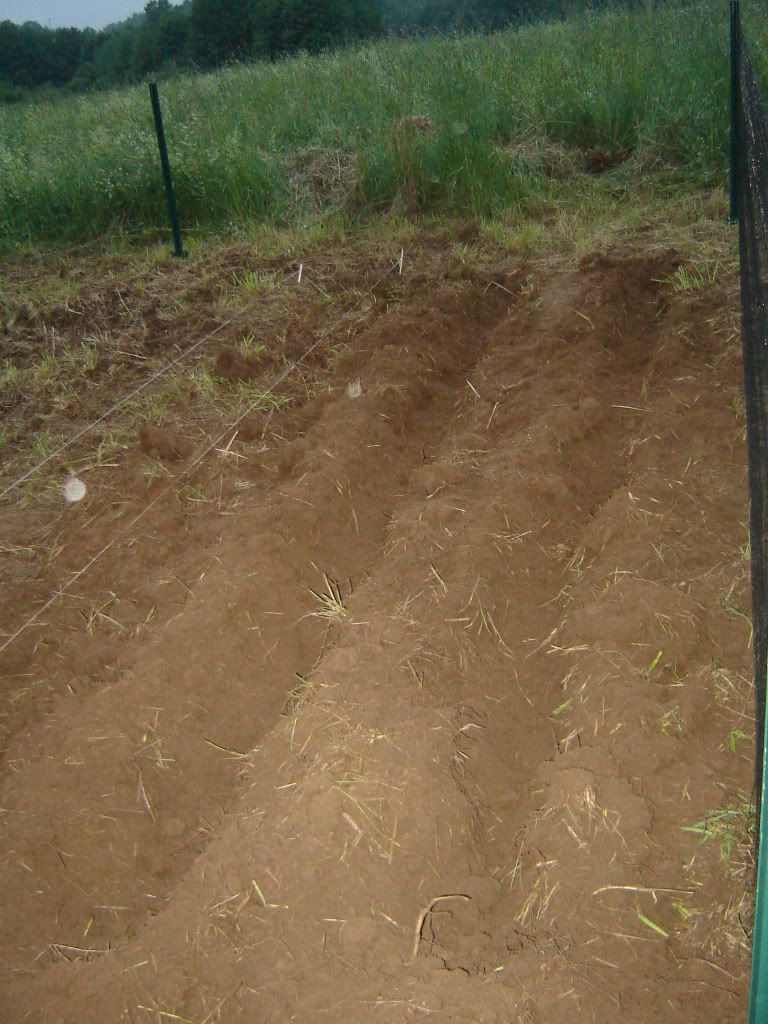 Our gardening adventure began on Memorial Day weekend when we arranged to rent a tiller and a truck from our local Home Depot for 24 hours. We both thought it would be a piece of cake to till our land which borders wetlands and has great soil. What we didn't anticipate was the subsequent 4 trips BACK to Home Depot for more supplies including a trimmer with a bush wacking attachment to weed wack the waist high grass where our garden was to be. It turns out that the tiller couldn't handle tilling the ground until we cut the grass down. DOH!
Saturday, we wasted the first 12 hours with the rented tiller making trips back and forth to Home Depot getting additional supplies we didn't anticipate needing. It was actually so bad that our bank card got put on fraud alert and the company actually froze our card until we called to tell them we were idiots and that Home Depot now owns a small share of our home. Bright and early on Sunday A.R. woke up and started weed wacking the grass with our new trimmer when he got his first battle scars slicing his knuckles while changing the blade on the trimmer. Then, he staked out the 4 corners of our garden. With just 4 hours left on the tiller rental he began tilling the spot that would become our garden. After tilling we loaded the tiller back in the rented truck and headed once AGAIN to Home Depot. It turns out we mis-read the time the tiller was due back and turned it in a mere 3 minutes before we would've been charged another day. PHEW!
The 1st rows are planted...the stakes have a deer fence hooked to them that you can't really see.
Learning to use the tiller on Saturday was quite an adventure as well. When we first got it we tested it out by trying to till some of the land by a fence that is on our property so I could plant some Hostas under it while A.R. tilled the vegetable garden. The tiller started once but then sputtered out and we couldn't restart it prompting a call to the rental department of Home Depot (I think they know our names now!) and come to find out there's a teeny tiny switch on it that shuts on and off access to the gas tank. A.R. soon had it up and running again and practiced for a bit before taking it down to the vegetable garden spot.
Next year we will plan a lot better BEFORE we rent the tiller as far as doing all the prepwork, so we can maximize our time with it. Unfortunately, we wish we had the tiller a few more hours as now there are a lot of grass roots in our garden and some grass is re-growing. One more pass with the tiller would've really helped break them up more. We learned so much this year and after two days of hot baths to ease my aching muscles I now swell up with appreciation when I drive by a home that has beautiful well-kept gardens. It is HARD work. Every muscle in my body ached for an entire week as we finished hoeing the rows and planted the seedlings. This weekend I get to weed it for the first time and plant the last row (carrots) of vegetables. I also have to put bean poles and some form of trellis contraption that my cucumbers can use to grow on.
Our garden is pretty big. Now we have the tomato cages up as well.
If you have any tips for a gardening beginner feel free to comment away. I'm learning about fertilizing now (1st application went on last weekend) and stablizing those veggies that need cages, poles, and trellis' to grow well. Remembering to water has been a challenge, but the rain we've had this week has really helped. Now I have to make sure little bugs aren't eating the leaves on my tomato plants!
H