As some of you ever observant readers have noticed on our Christmas card this year. A.R. and I have a little something extra to be thankful for this year. We found out the day before A.R.'s 31st birthday (on September 28th to be exact!) that M is going to be a big sister!! Our little Beetle Bug (a reference to Jungle Junction for those of you that watch Playhouse Disney) is due to arrive on or around June 10th, 2012 and I would totally be lying if I said I wasn't looking forward to having maternity leave over the prime summer months in Connecticut. We're very excited to be expanding our family although I do have moments of sheer terror as I wonder how I'll handle the terrible twos with a newborn, but I figure if my mom can survive two babies 15 months apart, I'll do great with babes that are 27 months apart. :)
His response: "OMG, you already tested?? You're pregnant aren't you. You're pregnant?! Really?!"
Me: "Have you read the fridge?"
Him: "Due in June 2012?? OMG, you ARE pregnant!! Really?!"
And then came the tears. No lie, my husband cried (and of course so did I- silly hormones). He didn't cry when we found out M was on the way and he says it was because he didn't know what to expect. Now he truly realizes what we have with our little M and what we'd be missing without her (more tears from me). He said he flashed forward to the birth and what it'll be like and couldn't keep the tears in (and yet even more tears). We hugged and for some reason M doesn't like when we hug too long, so she came in and pushed us apart and we had a group hug. Then, the three of us went upstairs and I showed them the evidence (test sticks). We sat in M's room and talked about when to tell family, decided which room would be M's big girl room (we're recycling our nursery for the new baby- it's gender neutral for that reason), and daydreamed about what it'll be like to have the pitter patter of four little feet in our home (LOVE the sound of toddler feet on our floors!).
Shirt reads: "No one consulted me about this new baby thing"
We told our families after our first appointment and dating ultrasound using two different shirts- one in Spanish for A.R.'s family and an English one for mine. A.R.'s family was clueless (except Titi Marisol!) and A.R. actually had to point it out for his mom to read before anyone left our gathering! My family got it right away because I basically just texted them a picture of M in the shirt since they all live out of state.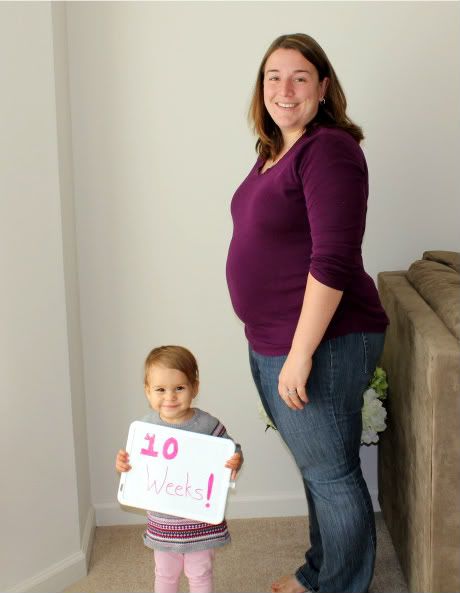 Taken 11-13-11
Oh and P.S. we're going Team Green this time! As in we won't be finding out the baby's sex. :) You have to do it the old fashioned way at least once.