At long last we started painting another room downstairs in our home (okay, it was really done two months ago...) and doing a bit more decorating. We had picked out a paint color long ago, but never gotten off our arses to actually buy it and paint. Of course it doesn't help that I've been banned from picking up a paint brush in our home- I'm horrible at painting, I get more on me than the wall- so the most I can do is tape and clean up afterwards leaving a majority of the work to A.R. Hey, I offered to help with the roller at least!
Right before our cruise in August, A.R. took a few extra days off and tackled the job of painting our kitchen, eat-in dining room, and solarium. We chose a pale yellow from the Behr Premium Ultra line called pale honey and I LOVE the results. It took A.R. a whole day to paint the area due to all the edging that was required. Thankfully he didn't have to do another whole coat and was able to just do touch-ups where needed. We've also decided to put in a back splash and found one at Lowe's that we are in love with after visiting 4 different stores including 2 that specialize in tiling. Hopefully, it won't take us as long to put the tile up as it did to finally paint!!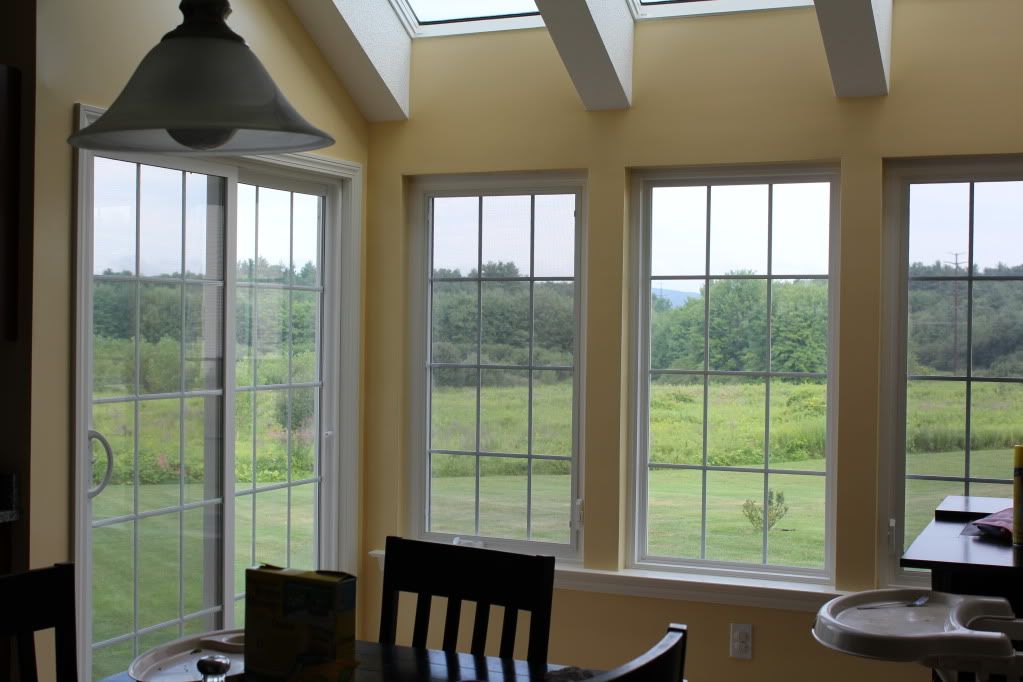 We've also already purchased the curtain rods for the solarium and I've cut five panels out of a sheer fabric in an off-white to use under some curtains. I'm going to sew the sheers myself, but I admit that my time is limited, so I'll probably buy the actual curtains. We finally found a design we love at Home Depot as part of the Martha Stewart collection. They are a red with a black and gold design. The red ties with our couch in the adjacent family room with our open floor plan and the gold will tie in the pale honey paint color in the kitchen. I think our neighbors will hug us when we finally hang curtains in these windows!!
More pictures to come.