This is going to be a post about mi familia (my family). Where we came from, where we've been, and maybe even some hindsight into where we are going.
Heather (me): I was born in a little town in Massachusetts on March 14th. I spent half of my childhood in that town until my parents got sick of the long, cold winters and snow and relocated us south to North Carolina when I was 10. I spent the next 11 years in the south until a boy and the persuit of a degree brought me back to the northeast. I've been in Connecticut now since October 2001 and obtained my Bachelor's of Science in Accounting from Central CT State University in May 2004, but the boy I moved here for is long gone.
I have an older brother who lives in Florida and two younger siblings who are much younger (14 and 15) and were adopted when I was a pre-teen. My parents and younger siblings still reside on their farm in North Carolina. I've been around pets my whole life and have had many cats (Fraggle, Hannah, Molly, and Bustopher to name a few) and dogs (Jerry, Ottis, and Benjamin) in my life as I grew up. When I was 13 I started horseback riding and quickly fell in love with the beautiful animals (click for the story of Hartwin). I've owned four horses in my life and hope to get back into horseback riding after A.R. and I have started a family and our children are older. Right now, A.R. and I own a 12 1/2 year old cat named Sebastian and a 2 year old Cocker Spaniel named Tomas.
Today, I am a reinsurance accountant at a large insurance company and will graduate with my MBA from the University of Hartford on May 17th, 2009.
Our boys when Tomas was a puppy: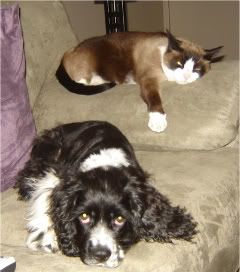 A.R.: A.R. was born and raised in Connecticut and is the youngest of 4 boys. He has a GINOURMOUS family including aunts, uncles, cousins, and 3 nephews and counting. I LOVE how close his family is and look forward to raising our children in such an environment. A.R. and his family are Puerto Rican, although most of them lately were born in Connecticut (two of his brother's were born in the US and two were born in Puerto Rico). I have enjoyed learning about his culture and heritage and look forward to traveling to Puerto Rico for the first leg of our 1st anniversary trip this fall. I also totally crave his mother's cooking and have tried many new foods since I've met A.R. My favorites include Spanish rice and beans, her homemade chicken soup and empanadas, tostones, piononos, alcapurrias and I could go on and on....now I'm hungry!
A.R. works in IT at a large insurance company and is going back to school (Rensselaer) for his Master's in Computer Science. He obtained his undergraduate degree in Actuarial Science from the University of Connecticut. In his free time he enjoys golfing and tinkering around with any tech related "toys". Yup, my DH is a geek (but I digress considering I'm an accountant)!
A.R. and I on our European honeymoon:
Where we came from:
A.R. and I met on a blind date on March 8th, 2006. We both worked for the same company, but in different departments on different floors and had never crossed paths while on the job (we worked in a 22 story building with over 5,000 employees). His sister-in-law's sister happened to be friends with my BFF at the time and they conspired to set us up on a blind date. We met for lunch on that brisk March day and after a 2 1/2 hour lunch our fate was sealed. We've been inseparable since. Shortly after our first anniversary of dating, A.R. asked me to be his wife and a year and 5 months later we were married in the middle of Tropical Storm Hanna.
Today we live in the home we built together over the course of 2008 and are enjoying newlywedded bliss. The first year is flying by and we look forward to growing our family in the near future (pets and/or children are possible additions!). We enjoy traveling (we've been to Spain, France, Italy, Panama, Costa Rica, and Belize so far), wine tasting, home projects (he likes to collect "useless" tools from Home Depot that he "might" need someday and I like to decorate and cook), dancing (we've been taking ballroom dance lessons since we first met), and entertaining.
On our wedding day 9-6-08: