Many of you don't know that I used to ride, train, and show horses and that I have owned 4 horses in my life. I started riding when I was 13 and got my first horse, Ole Sugar Dan (right), on my 14th birthday. He was the best friend a girl could have hoped for to carry her through the tough teenage years. I have many fond memories of riding the trails with him singing "Ole Danny Boy" and "Happy Trails" before we galloped the whole way back home. I also remember telling him my deepest secrets as my tears soaked his silken neck and his head curved around to nip me on the bottom as if to say he was listening. I did some crazy things with that horse (like riding bareback through the woods in the middle of the night letting him lead the way) and we won our share of blue, red, and yellow horse show ribbons and champion platters. Dan was always there for me and took care of me. Dan passed away at the ripe age of 27 peacefully in his sleep and I toasted his memory with stories of our past adventures with my friends.
I've ridden pretty much all of the disciplines out there including rodeo, western pleasure, hunt seat, hunter jumpers, dressage, and eventing. I bought, re-trained, and sold my first horse, Valcour, when I was 17. I used the proceeds to purchase a 2-year old ex-racehorse named Lusty Gambler. I bought her to ride and train her for dressage and eventing and to breed her in the future. After I relocated to Connecticut in 2001 (from North Carolina) I bred her while I finished up my Bachelor's degree. On April 7th, 2004 Baltic Hartwin (Hartwin for short, which means "Brave friend") was born.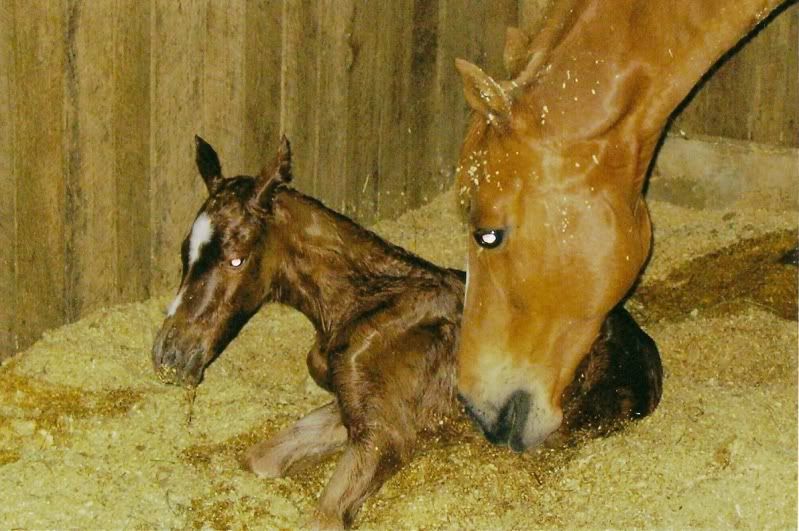 When Hartwin was old enough, I moved him to Connecticut to be with me and leased out his mother to a woman who wanted to rebreed her to the same stallion
LA Baltic Sundance
. Hartwin's full sister, Cassidy, was born a year later. Cassidy is a beautiful chestnut girl with not a speck of white on her which is rather rare for a brown horse. When she was a weanling she was shown in hand and was champion qualifying for a prestigious breed show called Devon, held each year in Devon, PA. After Cassidy's birth, I leased Sandi out to a young girl from the barn where she had been boarded. Rachel fell in love with Sandi from the start and after her lease was up I sold her as my horse's heart was truly not mine anymore. They are a great pair today and I'll never forget the day I flew down to North Carolina and signed Sandi's registration papers over to Rachel. She was so excited she couldn't sit still. It reminded me of a 14 year old girl I once new as she peered over the stall the morning she found out that beautiful boy named, Dan, was hers. Yup! That would be me. :)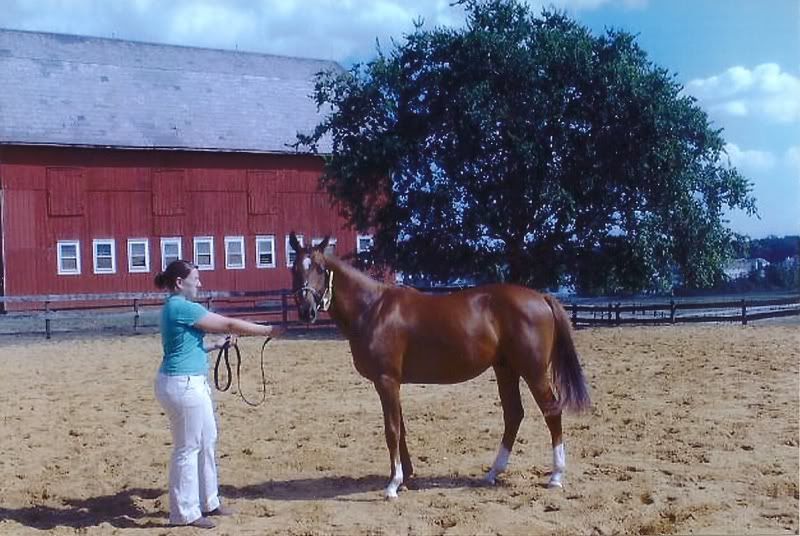 Once Hartwin was in Connecticut, I began his training and took him to the Swedish Warmblood inspection in New York where judges, flown in from Sweden, judge weanlings, young horses, stallions, and mares each year and grade them based on their gaits (the way they move), look, and overall suitability and quality of breeding as it applies to the guidelines set forth by the Swedish Warmblood Association. Hartwin was approved and got branded that day. Here is a photo of him on his inspection day as a yearling (left). So handsome!
Soon after his inspection, I started to teach Hartwin to accept a saddle and bridal and eventually taught him how to carry a rider on his back. Around this time I had started grad school and met A.R., who would become my future husband. In November 2007, I made the tough decision to sell Hartwin as he was at a crucial age (3) to start recieving vital training under saddle that would stay with him for the rest of his life. I did not have the time to train him myself due to working full-time and taking grad classes at night and affording a personal trainer was out of the question. Hartwin is now in a wonderful home with his new owner, Marie, and is doing wonderfully. She started showing him in Dressage last summer and has been nice enough to keep in touch with me. I cannot believe how grown up my baby boy is! I feel like such a proud parent to see him doing so well. He turned into such a beautiful horse and I can't wait to visit him this summer and see Marie parade him around the show ring.

Here is a picture of Hartwin with Marie that she sent to me this month. This photo of them was taken last summer (2008):