This recipe is husband approved! He had seconds the night I made it and requested I pack some of the leftovers in his lunch the next day. Right before lunch, A.R. (this is how I'll refer to my husband going forward in my blog just to keep some privacy as it is public) had to leave his office unexpectedly and called me to whine because he left his lunch bag on his desk and wasn't going to make it back to work. He seriously considered driving a half hour out of his way to go back to the office and "rescue" the leftovers from the trash. They were in a refrigerated bag, but I doubt they would've been safe to eat the next day with no ice pack in it.
I found the recipe courtesy of Rachel Ray's
30-minute meals
. I used the lighter options (lite chicken broth instead of cream in the potatoes, softened lite cream cheese instead of sour cream, egg beaters instead of the egg yolk, ground turkey, and "I Can't Believe It's Not Butter") when I made the recipe. The next time I make it I'll probably add either extra chicken broth to the potato mixture or a little salt as I like my potatoes salty and didn't find them salty enough. I also will season the turkey a bit more with salt and pepper and perhaps a little Adobo while browning it in the skillet.
Ingredients
2 pounds potatoes, such as russet, peeled and cubed
2 tablespoons sour cream or softened cream cheese
(I used the cream cheese)
1 large egg yolk
(I used Egg beaters instead)

1/2 cup cream, for a lighter version substitute vegetable or chicken broth
(I used vegetable broth)
Salt and freshly ground black pepper
1 tablespoon extra-virgin olive oil, 1 turn of the pan
1 3/4 pounds ground beef or ground lamb
(I used ground turkey)
1 carrot, peeled and chopped
1 onion, chopped
2 tablespoons butter
(I used "I Can't Believe it's Not Butter!")
2 tablespoons all-purpose flour
1 cup beef stock or broth
(I used vegetable broth and the gravy turned out delicious)
2 teaspoons Worcestershire, eyeball it
1/2 cup frozen peas, a couple of handfuls
1 teaspoon sweet paprika
2 tablespoons chopped fresh parsley leaves
Directions:

Boil potatoes in salted water until tender, about 12 minutes. Drain potatoes and pour them into a bowl. Combine sour cream, egg yolk and cream. Add the cream mixture into potatoes and mash until potatoes are almost smooth.
While potatoes boil, preheat a large skillet over medium high heat. Add oil to hot pan with beef or lamb. Season meat with salt and pepper. Brown and crumble meat for 3 or 4 minutes. If you are using lamb and the pan is fatty, spoon away some of the drippings. Add chopped carrot and onion to the meat. Cook veggies with meat 5 minutes, stirring frequently.
In a second small skillet over medium heat cook butter and flour together 2 minutes. Whisk in broth and Worcestershire sauce. Thicken gravy 1 minute. Add gravy to meat and vegetables. Stir in peas.
Preheat broiler to high. Fill a small rectangular casserole with meat and vegetable mixture. Spoon potatoes over meat evenly. Top potatoes with paprika and broil 6 to 8 inches from the heat until potatoes are evenly browned. Top casserole dish with chopped parsley and serve.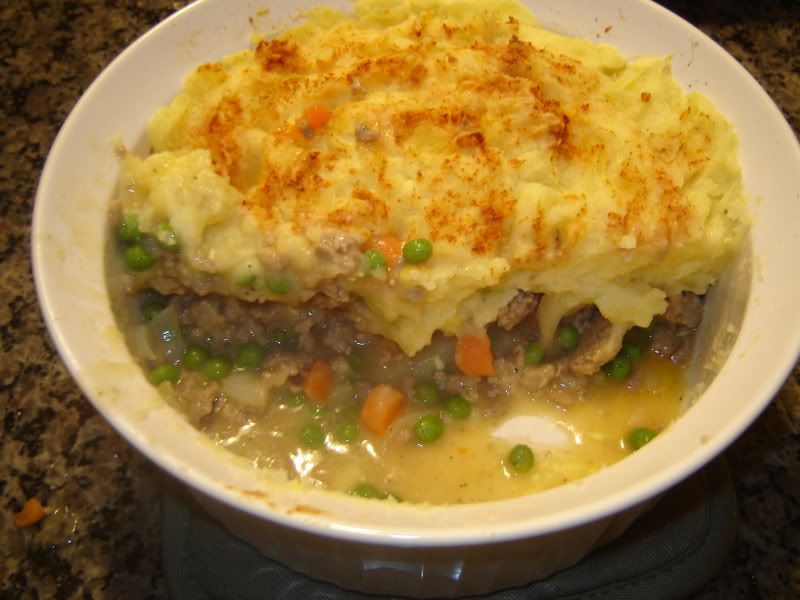 I'd like to thank my coworker for giving me the idea to look up and make this recipe. If it wasn't for their aromatic (in a good way!) leftovers I never would have gotten the idea. It was perfect for a rainy cold spring day. A.R. has asked that I make it at least once a week and said it tops his old favorite recipe that I make.
ENJOY!
H