My friend never boils her lasagna noodles before making a lasagna and I wanted to try this fabulous time saver myself. My grandmother wasn't feeling good a month ago (she had Lyme Disease and a muscle disease with some long complicated name on top of a clogged carotid artery that required surgery) and I wanted to make some meals for her to freeze and reheat and I thought I would use her as my test dummy. Lucky for her I found this recipe and it really worked and the lasagna was delishous!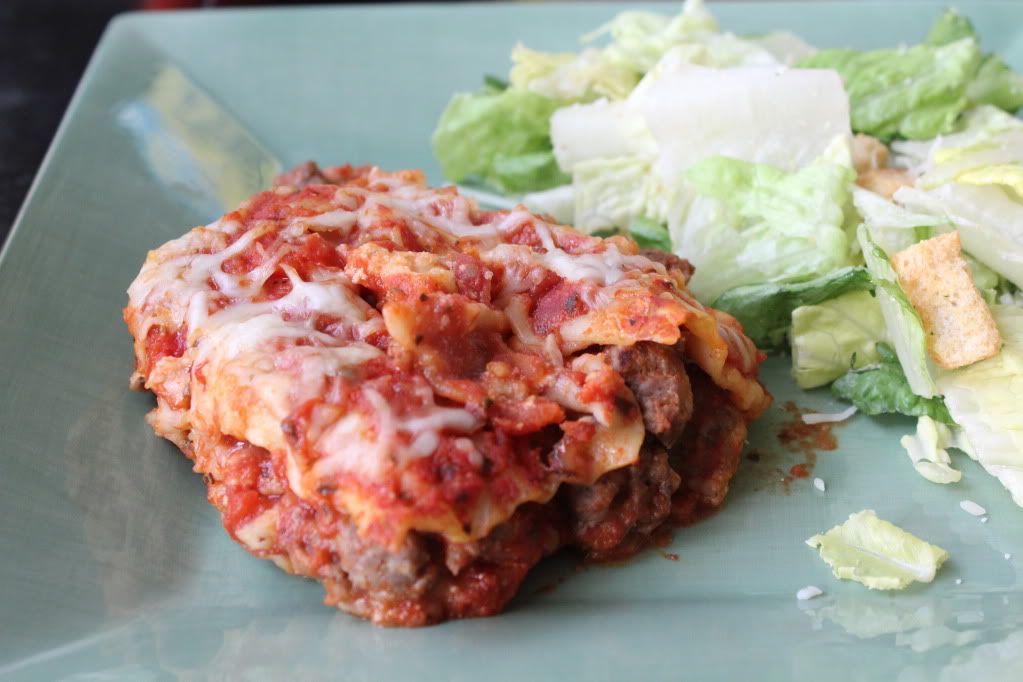 No Boil Lasagna
(from Cooks.com)
1 lb lean ground beef or Italian sausage (I used the sausage and always do in my lasagnas)
1/2 cup chopped onion
1 clove garlic, minced
1 jar (32 oz) spaghetti sauce
3/4 cup water
1/2 pkg (8 oz) extra wide lasagna noodles
2 cups ricotta cheese
1/2 cup grated parmesan cheese (it's best if you use fresh grated instead of pre-packaged)
1 tbsp chopped parsley
3 cups shredded mozzarella cheese
1. Heat oven to 375.
2. In a 10-inch skillet brown meat, onion, and garlic; drain.
3. Combine spaghetti sauce and water in a medium bowl. In a separate bowl, combine ricotta cheese, 1/4 cup of parmesan, parsley, and 1/2 of mozzarella cheese.
4. In a 13x9 baking dish, layer 1/3 of sauce mixture on the bottom of pan, 3 uncooked lasagna noodles, 1/2 of combined ricotta mixture. Repeat layers ending with sauce mixture. Cover tightly with foil.
5. Bake 1 hour; uncover, sprinkle with remaining parmesan cheese and mozzarella cheese and continue to heat until cheese is melted. Let stand 10 minutes before serving.
Mmmmmm! You can freeze this lasagna before cooking for a quick meal as well.