I got this recipe from a Diabetic Holiday cook book gifted to me from a friend and I've been delighted with the number of delishous recipes I've made from this book. A.R. has been diagnosed as pre-diabetic, so I've been slowly altering our eating habits and trying out new healthier recipes. This cook book was a good start for us both to get back on track with our diets and we have been pleasantly surprised that eating healthy doesn't mean bland. Don't let the steps in this recipe intimidate you...it's actually easy to make and fairly quick.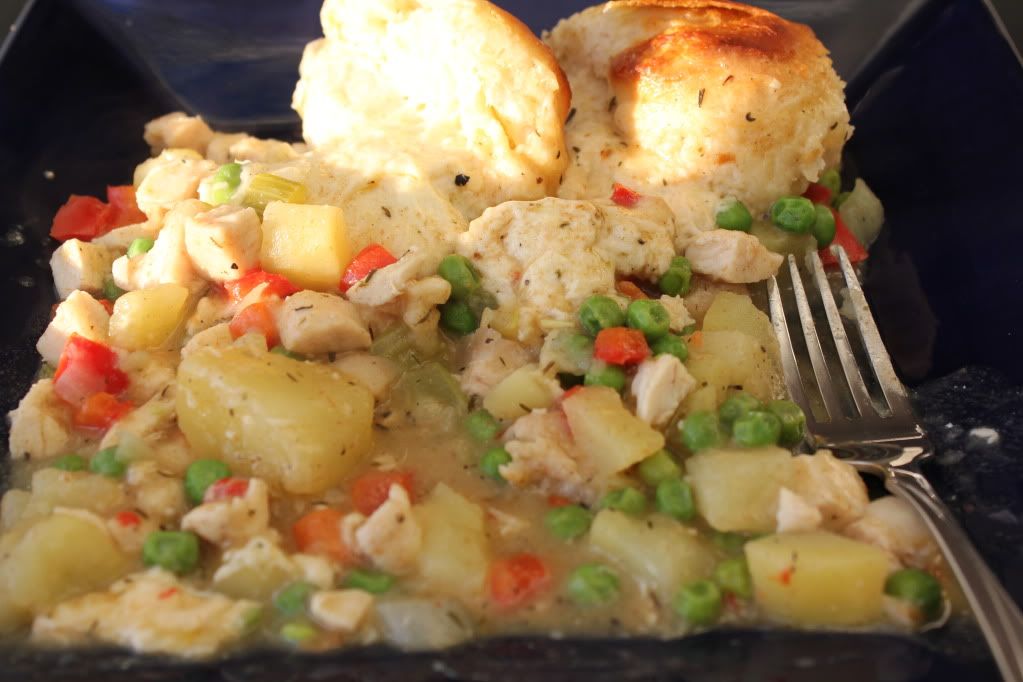 Filling:
2 teaspoons olive oil
1 cup diced red bell pepper
2 stalks celery, sliced
1 small onion, chopped
2 tablespoons all-purpose flour
1 1/4 cups fat-free reduced-sodium chicken broth
1 cup cubed peeled potato
1/2 teaspoon dried thyme
1/4 teaspoon salt
1/4 teaspoon black pepper
2 cups cubed cooked turkey breast (about 10 oz)
1/3 cup frozen peas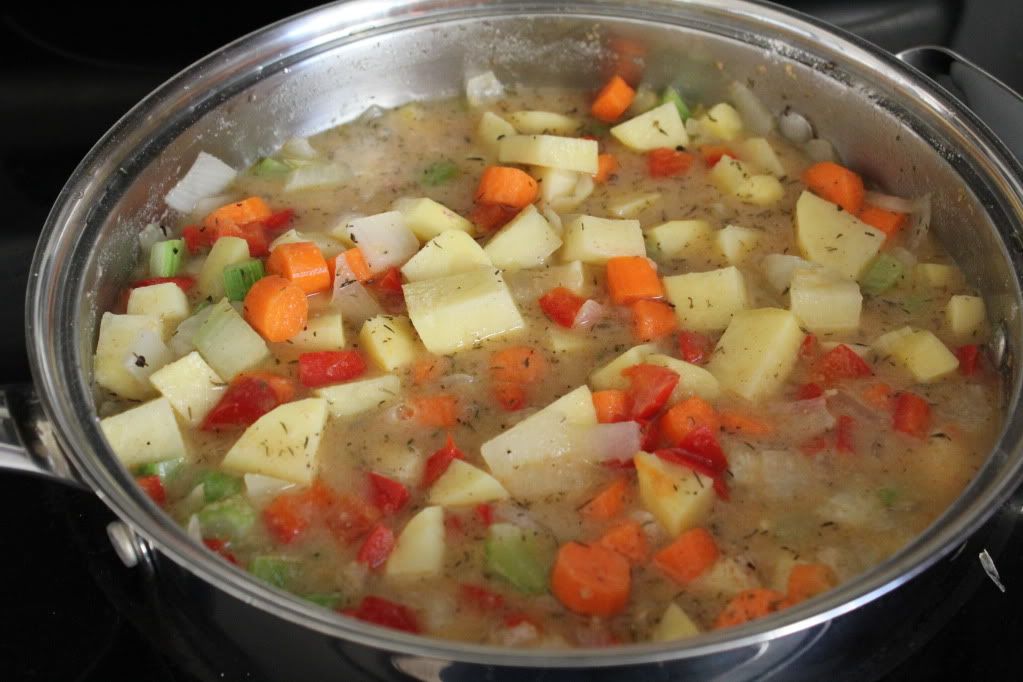 Biscuit Topping: (I actually cheated and used Pilsbury pre-made biscuits to do the topping)
3/4 cup all-purpose flour
3/4 teaspoon baking powder
1/8 teaspoon salt
1/8 teaspoon baking soda
3 tablespoons cold reduced-fat stick margarine, cubed
3-5 tablespoons buttermilk
1. Preheat oven to 425 F
2. For filling, heat oil in large skillet over medium heat. Add bell pepper, celery, and onion; cook and stir 4-5 minutes. Stir in flour until blended. Stir in broth, potato, thyme, salt, and black pepper; bring to a boil. Reduce heat; cover and simmer 8-10 minutes.
3. Stir in turkey and peas; simmer 5-7 minutes or until potato is tender and peas are hot. Pour into 1- 1 1/2-quart casserole
4. For topping, combine flour, baking powder, salt, and baking soda in medium bowl. Cut in margarine with pastery blender or 2 knives until margarine is the size of peas. Stir in buttermilk until dough forms.
5. Place dough on floured surface; knead lightly. Pat out to to about 1/2-inch thickness. Cut into 5 biscuits with 2- 2 1/2-inch biscuit cutter, rerolling dough as needed. Place biscuits on top of filling.
6. Bake 12-14 minutes or until lightly browned.