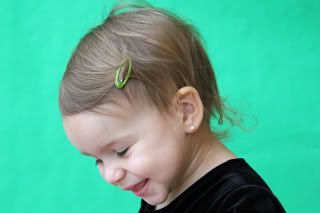 I hope you all had a very Merry Christmas (or a Happy Hanukkah)! This year was especially magical for me as I got to live the magic of Christmas through the big, brown,
eyes of my daughter. Oh to be a child again and have that innocence and wonder. The greatest gift I received this holiday season wasn't my new Snoogle (although that pregnancy pillow goodness is pure heaven) or the jewels from A.R., it's the joy and delight I saw reflected in our daughter's eyes as she stumbled upon a visit from Santa and figured out that there were toys and special treats beneath that Christmas wrapping paper. It was her look of awe and dancing in church as the choir sang my favorite Christmas hymns and her first coloring artwork of baby Jesus in his manger as we began to teach her the true meaning of Christmas.
I think this year I was more excited for the day than she was. I slept fitfully Christmas Eve as I waited for her to wake up and see her surprise under the tree. The same tree she saw decorated every morning as we came downstairs and said, "Wo-ow!" to every morning for the last month. We were especially blessed this year to have my Grandmother with us to share the day. There's nothing like seeing the joy a tiny toddler can bring a 92 year old women. They were inseparable her entire visit with us. It was a busy time for them with tea parties to attend, babies to feed and take for walks, keyboards to play, and puzzles to assemble. I think my Grandmother grew a few years younger for just those two days she was with us!

My eldest two nephews present stalking
Craziness with 6 grandkids at my in-law's house
A.R. and I sat back and watched, videoed, and took hundreds of pictures of our little family and day dreamed about what it will be like next year with two sweet little ones running/crawling around. Morning snuggles are the best over holiday breaks from the daily grind. I love how M comes into our bed between us and snuggles in. She gives us both kisses and even whispers special secrets in my ear on some mornings. I cherish these days as I know they'll pass all too quickly. I have so many fond memories of our Christmas in 2011 and I look forward to what's to come next year! Now, without further adieu, let me add some pictures...
WOW! Just wow.