This post is quite delayed and I'm sure you've been sitting on the edge of your seat biting your nails in anticipation waiting for it. Okay, maybe my life isn't that interesting, but at long last almost a month after our cruise departed I'm going to finally write about our fabulous vacation. A.R. and I are just in love with cruising and were desperate to get away since last summer with a newborn we didn't get farther then a long weekend camping in Rhode Island. Please note that for us, camping was NOT a vacation...my nephews enjoyed it and it was fun for me as a child to go camping, but man as and adult is it a lot of work! As for the cruise...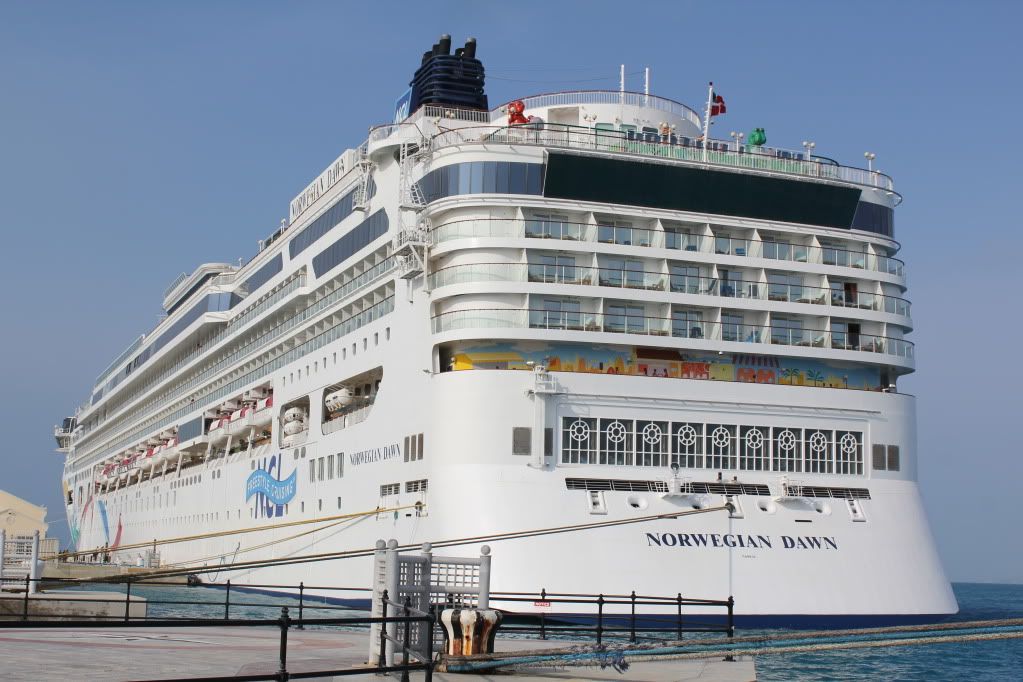 Birdseye view Deck 12 down to Deck 7
This was our first cruise on Norwegian and our first experience with their "famous" Freestyle dining, but it was my sixth cruise and A.R's fifth. I have to say that after sailing on Norwegian, we are still "Loyal Royals" and won't purposely stray away from Royal Caribbean again in the near future (except for maybe a Disney Cruise for our kids one year way down the road). There is just more to do on Royal's ships for both adults and children including mini golf, ice skating, rock climbing, clubs, more pools, and hello?! What about Johnny Rockets at all hours! Of course, we still had a great time on our trip and it wasn't awful, just not as good as we expected after hearing reviews of Norwegian and how convenient it was.

From the chocolate buffet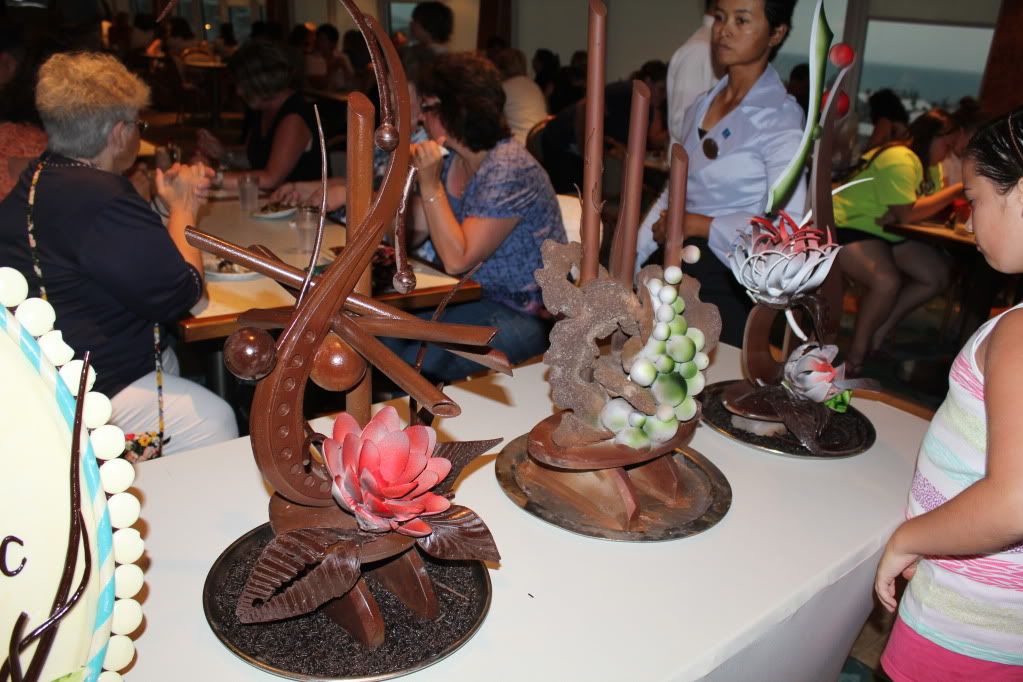 Chocolate show pieces at the chocolate buffet
We sailed on the Norwegian Dawn and had heard that it was recently released from dry dock after some sprucing up. To be honest, it still looked kind of meh to me. I think we've been spoiled by the Royal Promenade on Royal's ships. Getting around the ship was a pain in the neck. The quickest route from our port side cabin which was literally three doors down from the aft cabins on Deck 9 to the kiddie pool just a mere three decks right above us involved traipsing through the spa and gym. The other option would be to walk to mid-ship just to catch the elevators that actually went up to Deck 12. We had booked an aft cabin to be closer to the kiddie pool and it ended up backfiring on us (we are usually mid-ship). Getting to the internet cafe which we ended up not using for a change was a scavenger hunt in itself that actually ended down the hall from us to an inconspicous door that read "Go through here to internet cafe". I never would've found it had we not been staying on that deck and walked by it on our way to the front of the ship for a show.
Child sized lounge chairs by the pool = PRICELESS!
We had three sea days on board the ship and M was only allowed in ONE of the pools on the entire boat. It was a kiddie wading pool that was maybe 8x8 with warmer than bath water by the end of the week (pee pee water?!). We tried to take her to the larger kid pool which was the only one that had some shade over it and were told she couldn't be in there. Forget about trying her in the adult pool as it was sea water and she couldn't go in it, either, according to the staff. Frustrating for us, but she did enjoy the wading pool which also had a small slide into, so we lived with it.
Our row waiting for the show to start
As for the Freestyle dining- Not. A. Fan. At all. I get the convenience factor it's supposed to offer, but in reality everyone on board wants to eat at one of three times: 1) early to see the late show in the theater or 2) late to see the early show or 3) somewhere inbetween because the kids can't wait until super late, but also would be too exhausted for the late show and eating too early would mean they are starving before bed. In theory, being able to chose when you eat sounds appealing, but it just doesn't work. Especially, on a sea day without other options for dinner off the ship. The two sea days we did use the main dining halls (included in your fare) we had to wait. One night we waited 45 minutes for dinner! Yes, we could've gone to the 24 hour buffet or visited one of the five "Specialty" restaurants (for a small fee- the lowest was $15 cover charge pp), but we paid for the cruise and wanted to enjoy a nice 3-course meal in the dining hall because let's face it...we don't do it home. To attend a Specialty restaurant you had to make a reservation and most of the best times were booked early (as in the first 2-3 days on board). We did try out one of the restaurants, Teppanyaki, which was a Hibachi grill and it was fabulous, but the cover charge for us to eat there made us both swallow hard. We (all 12 of us in my family that traveled) also felt that the wait staff for the main dining halls for the most part did not work as hard as on other liners. I think it has to do partly with the fact that they weren't working for extra gratuities (while you could tip if you did feel so inclined) and usually, you didn't get seated with the same staff twice. On other liners you tip on the last day on board directly, but with NCL an auto gratuity per person, per day is added to your state room tab that is then split among that staff, so tipping more is at your discretion only. Why would they want to go above and beyond when most people wouldn't be seated at their table more than once. There were a couple waiters/waitresses that we had that were fabulous, but more than half weren't.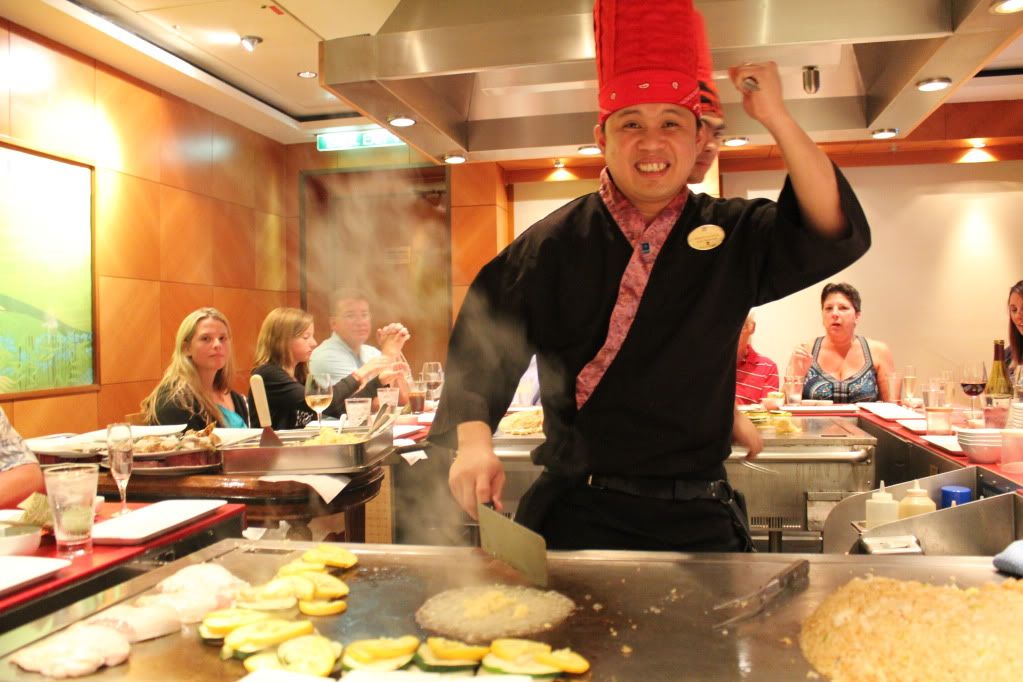 Our chef at Tappenyaki
Yum!
Okay, I could probably rant about a few more things, but let me add in some positives before this becomes a small novel...The food on board the ship no matter where you went was FABULOUS. It's amazing that I only gained 2 pounds the whole trip. Seriously! Our stateroom staff was top knotch and knew all of our names (even M's) by the morning of the second day and greeted us each day. Of course M put on her charm, cocked her head, waved, smiled, and said, "He-ey!" back at them each morning. :) The spa. OH, the spa how I love thee. A.R. and I indulged in a hot stone couples massage that was pure bliss and I had a facial that was so relaxing. A bonus was the staff didn't try to push their products on us after each spa service like we've had on other liners, which I appreciated. Also, the entertainment shows were actually not completely cheesy. Okay, maybe a little bit cheesy, but it was a nice smooth, tastey cheese. The production staff was fabulous, the singers, dancers, and aerialists were amazing. Yes, the ship had its own aerialists! I think the best part of the cruise was the fact we were docked in Bermuda for three days instead of a new island each day. This change of pace for us worked out nicely having a little one along for the first time. We didn't have to rush, we took our time to really explore the island and got to see all of it instead of picking and chosing what was worthy, and we saved money doing tours on our own and using Bermuda's public transit system to get around the island on our own. Oh and chocolate buffet!! No further explanation needed. :)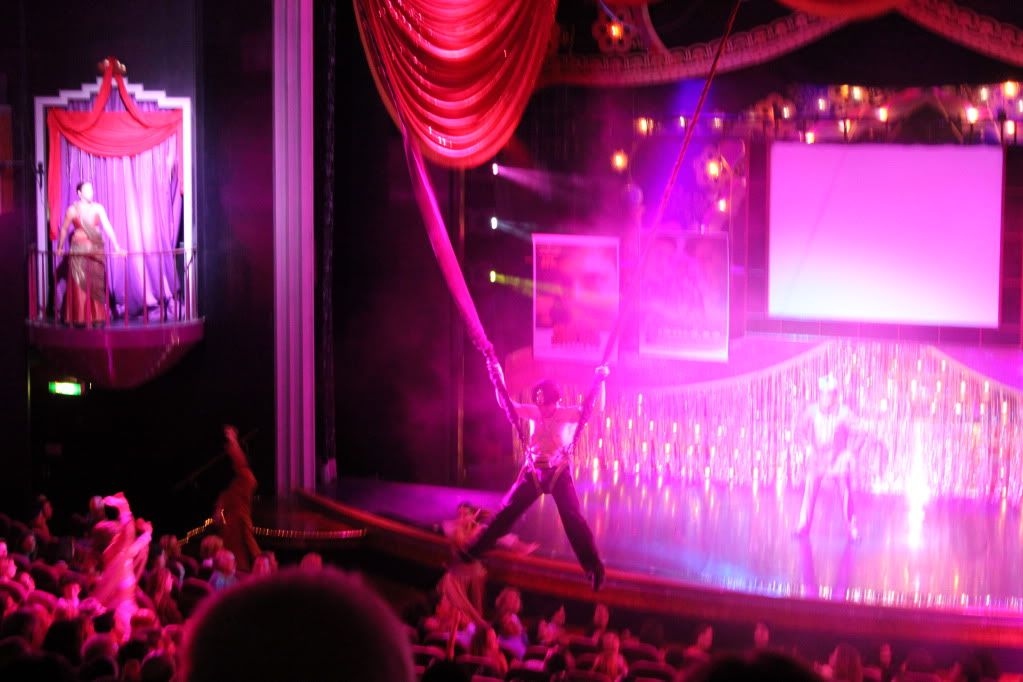 One of the aerialists at a performance (he's middle of screen hanging from ceiling)
Overall, the ship wasn't horrible, but it wasn't the best we've been on. Bermuda was a beautiful island and I'll share more about our adventures there in Part 2. We had a wonderful and very relaxing trip and came back rejuvenated.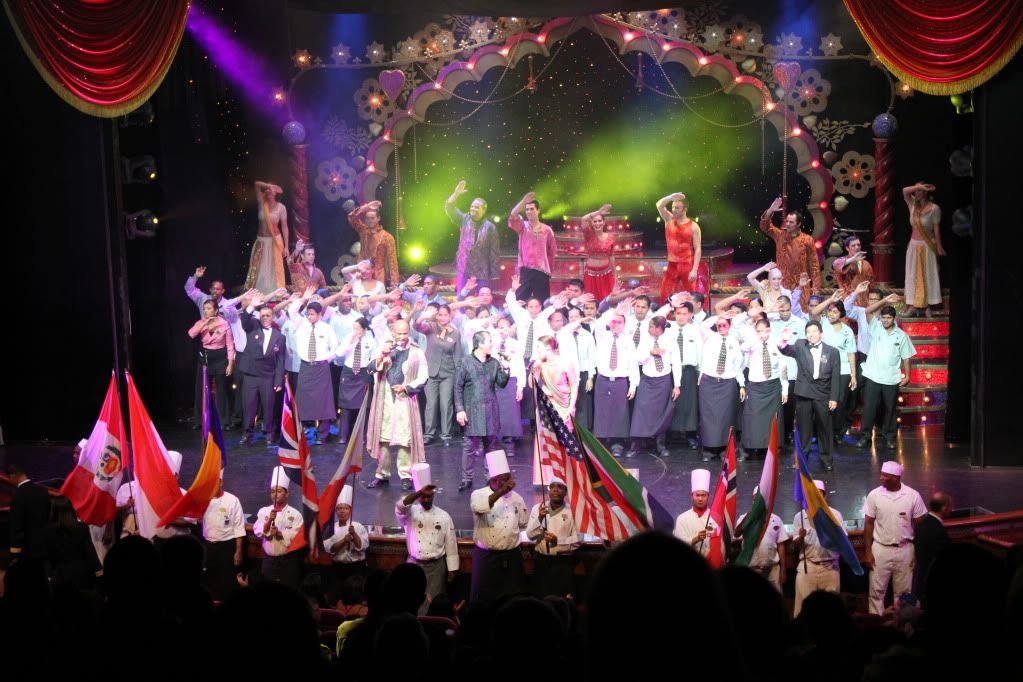 Final production- some of our cruise staff
A view towards the ship's front from our stateroom balcony
Cousins!
Towel animal decapitation about to commence
Getting her Barney fix with puffs and Papi- a toddler dream vacation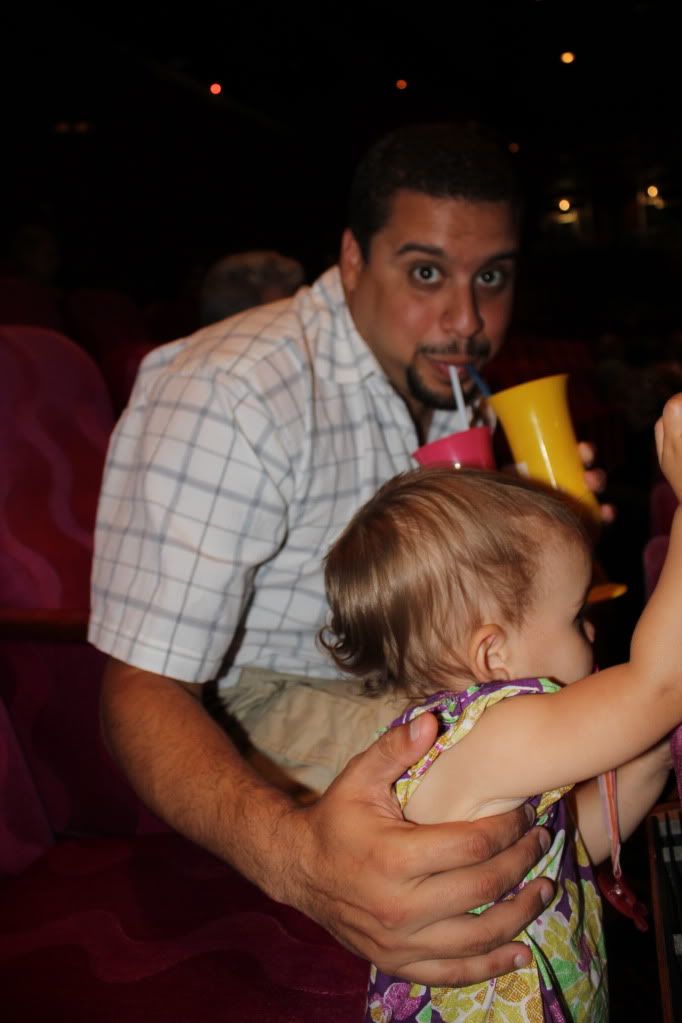 Yup, they were alcoholic. Best thing about cruises = no driving!
Our stateroom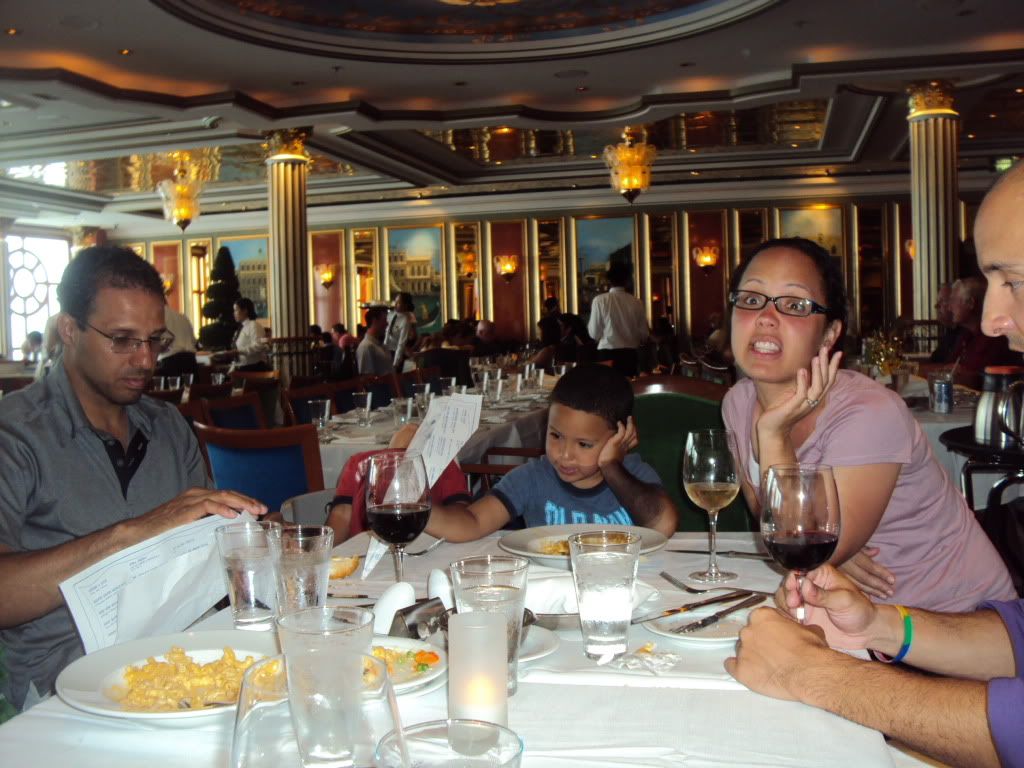 Dining in the Venetian with the family
The whole gang except my brother-in-law, Javiel, on Embarkation Day
Bye Bye Tropical Storm! PHEW!