I had the opportunity to take a stab at my second fondant cake as a gift to my good friend who is having a baby in July. I helped host her baby shower recently and she was gracious (brave) enough to let me make her cake. She picked out a cannoli cake with cannoli filling as her flavors and left the rest up to me. I was a little nervous as it would be the first cake I made that strangers would actually see and be able to critique. Her whole shower theme was puppies and it was a neutral baby shower as they opted to not find out the baby's sex. I made the cake to look like the puppy on her invites, banner, and thank you stickers and I have to say it turned out pretty well. I was quite pleased with it.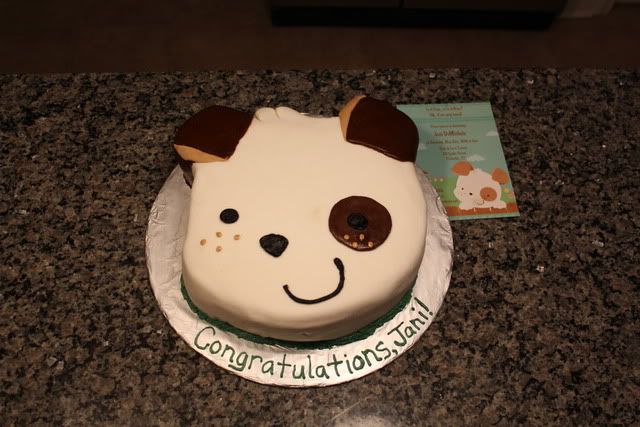 The cake the night I made it, with sample invite to the right.
My second attempt at making the rolled marshmellow fondant from scratch and covering the cake went fairly easy with no setbacks and it also took a lot less time because the cake was smaller than the one I did for M's birthday. I am still bad at planning out how much batter I need for my cake pans and had to mix an extra batch of cake batter. DOH! I also had to run out and buy more ingredients to make the buttercream frosting because I ran out of butter and eggs. I know I'll get better with that in time, though. This time around I also tried a new buttercream icing recipe thanks to the recommendation of a friend (thank you, Brie!) and it turned out fantastic. It took a bit longer to make, but the results were well worth it. I made a Vanilla Swiss Merengue Buttercream recipe based off a recipe on
Annie's Eats blog
. I have dreams about licking the frosting spoon after I was done. :)
On display at the shower
The cake was made using two 14" round cake pans. I sliced them each in half and made her cake into three layers (discarding the fourth layer). Before I put the filling in, I stacked the three layers on one another and cut them to match the puppy's head shape on the shower invite. Yes, I did it free style without a template...who knew I was such an artiste?! Once the basic shape was cut, I added the cannoli filling between the layers, covered with the buttercream, and then covered it all with white rolled fondant. It only took me one try to get the fondant right this time. Woot! Then, I decorated the cake with fondant I had dyed with brown food coloring gel. All decorations on the cake are made of fondant, except for the eyes, nose, and mouth which are black icing. The cake looked so cute and the mom-to-be loved it. She even announced before she cut it that I made it from scratch. The best part was the comments the shower guests made about how delicious it was.
And another view...
Now, I want to take Wilton cake decorating classes to perfect my new found skills. :)