My Dad turned 60 this year. I can't believe he now qualifies for a senior discount at most places. I know I'm getting older, but for some reason it's hard for me to picture and accept my parents are aging right along with me. They will always be there, right? Right?! Anyhow, my older brother and I decided it might be nice to surprise my Dad for his milestone birthday and fly down to NC to spend the weekend with him and the rest of our family (my mom, younger sister, and younger brother). I'm ashamed to say that A.R. and I hadn't been to NC since my good friend got married in April 2007 and we attended her wedding. In our defense, we have seen my parents a few times inbetween then and now what with their first grandchild's birth and her first birthday and all. I still hate that we can't see them more, so they can have some quality bonding time with their only grandchild to date.
The birthday boy. My Dad.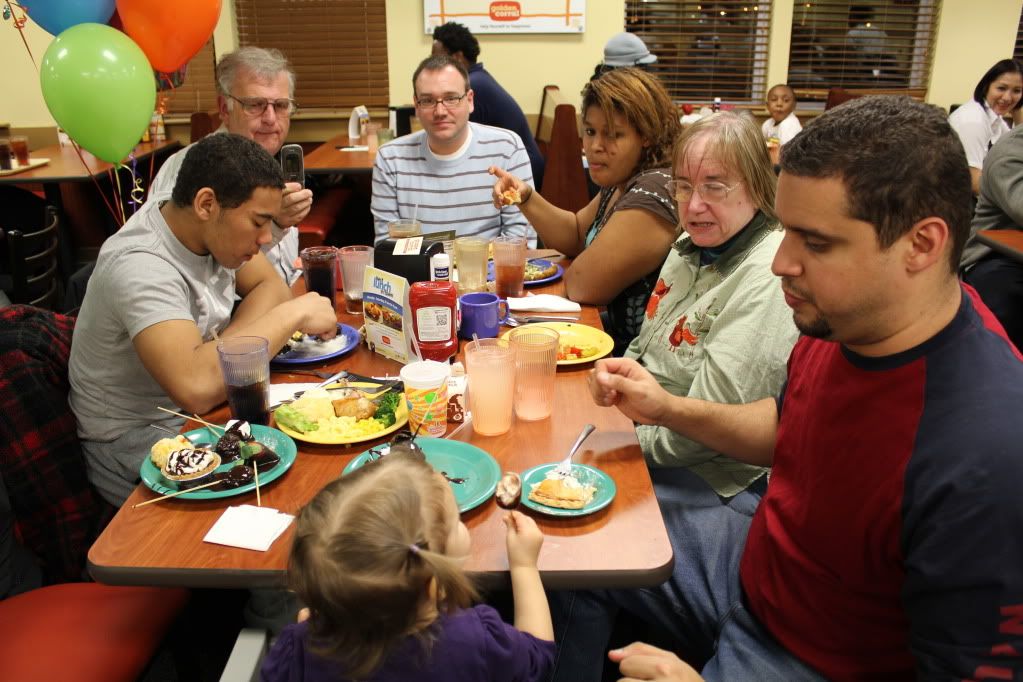 1st birthday celebration dinner
Opening presents with Grandpa
Back to our trip. My Dad's birthday was on a Sunday (February 26th), so we flew in on Saturday morning and arranged a secret meeting with my mom and younger siblings where we could surprise my Dad. He happens to like Golden Corral, so we made our great appearance there and boy was he surprised. I think he suspected my brother was going to fly in, but he certainly didn't expect a visit from his pregnant daughter and her family. I don't think he realized it was still okay for me to fly! I think seeing Miss M was the best gift for him on his birthday. We bought my Dad some birthday balloons and once he had them in hand, M was infatuated with him and his awesomeness at getting to hold said balloons. Within an evening he was her new BFF as he shared a balloon with her. (What is it with kids and their fascination with balloons?!) After dinner we went back to the hotel suite that my older brother hooked us up with with his super perks from work (it was an amazing 2 bedroom suite at a Residence Inn- HIGHLY recommend them!) and had cake and opened a couple early presents.
My little equestrian
And she wanted to ride like a "big" girl.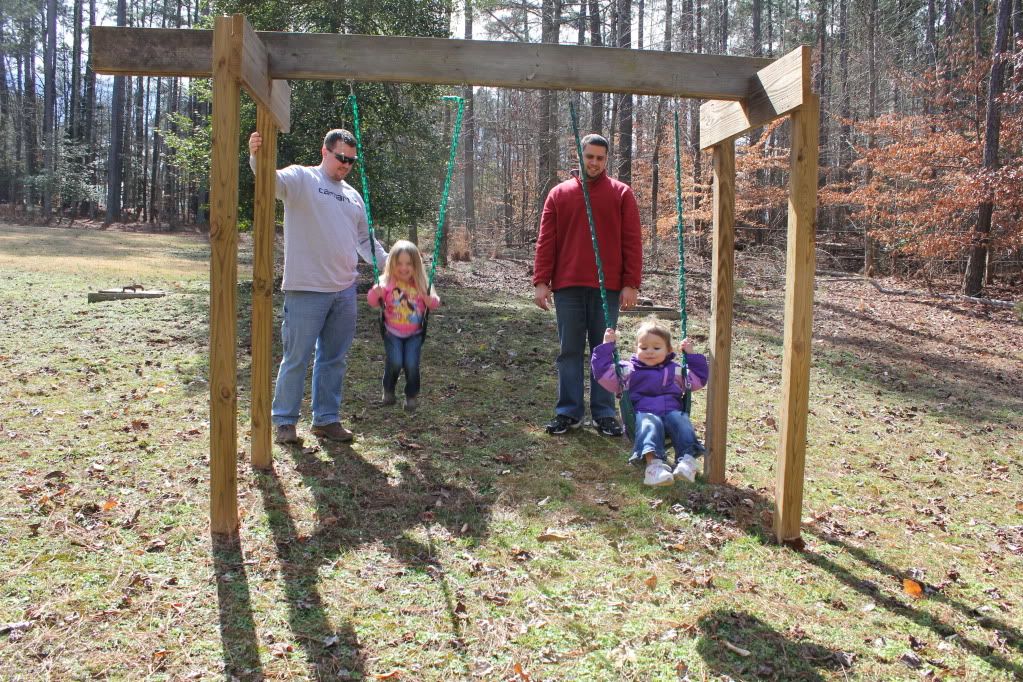 Daddy Daughter time swinging
The next day while my parents went to church to teach their Sunday School class and Pete completed his accounting final on-line (WTG, big brother!), A.R. and I took M over the my friend's house to visit her family, see their new home, and let M play with their daughters and horses. This is the same friend whose wedding we attended back in 2007 (she was also my Matron of Honor) and we were roommates for awhile back in our prime. :) I love her new home and her family is so precious. She has two daughters (ages 11 and 3) and they were great with M and sharing their toys with her while the adults chatted. It was great to see them and catch up as we always end up picking up where we left off and just wishing we lived closer. My friend was so very generous in sharing a TON of clothes her youngest has outgrown, so now I don't even have to shop for M this spring much if at all! They also let me take an old suitcase they had as mine got destroyed by the airline on our horrid (very turbulent) flight down to NC.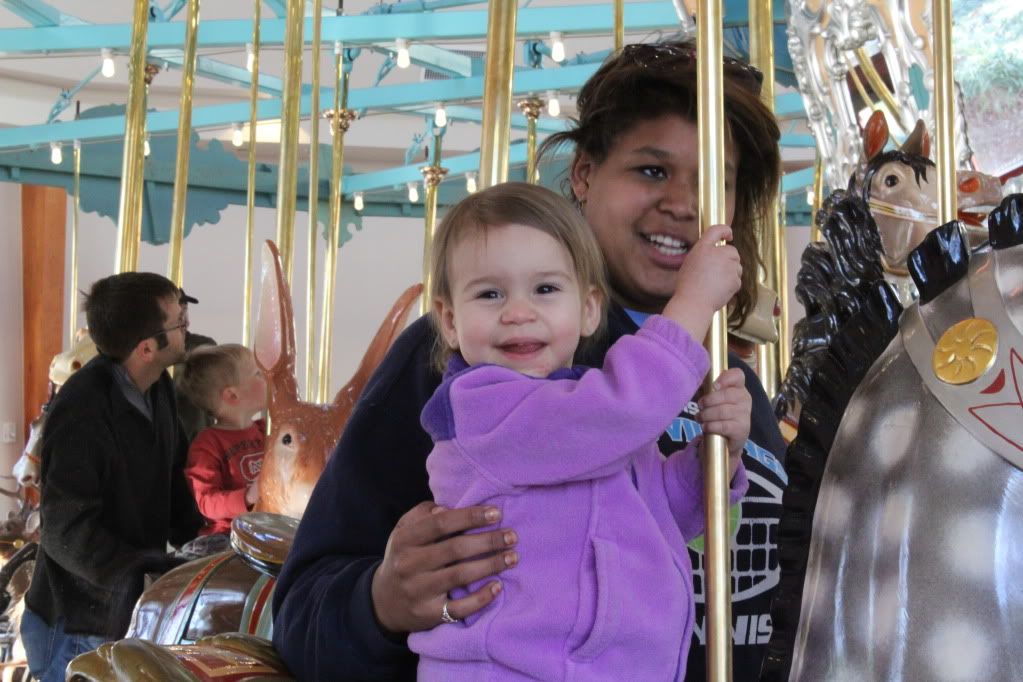 Carousel time with Auntie Bekah
Then, M got to ride one of their horses and she was in girl horse addiction heaven. Seriously. I think those that love horses have it in their blood or have an extra gene that is passed down generation to generation and my girl sure inherited it from me! She had absolutely no fear and even sat on Casper all by herself (heart skips a beat). It was sweet to hear the two dads whispering about how they cope with their own fears of letting their daughters ride and trusting that their wives aren't going to put them in danger (my friend and I are both avid horse lovers and accomplished riders while our men are not). I can't wait to set up M's new big girl room (post coming soon) which is horse themed. She's going to love it!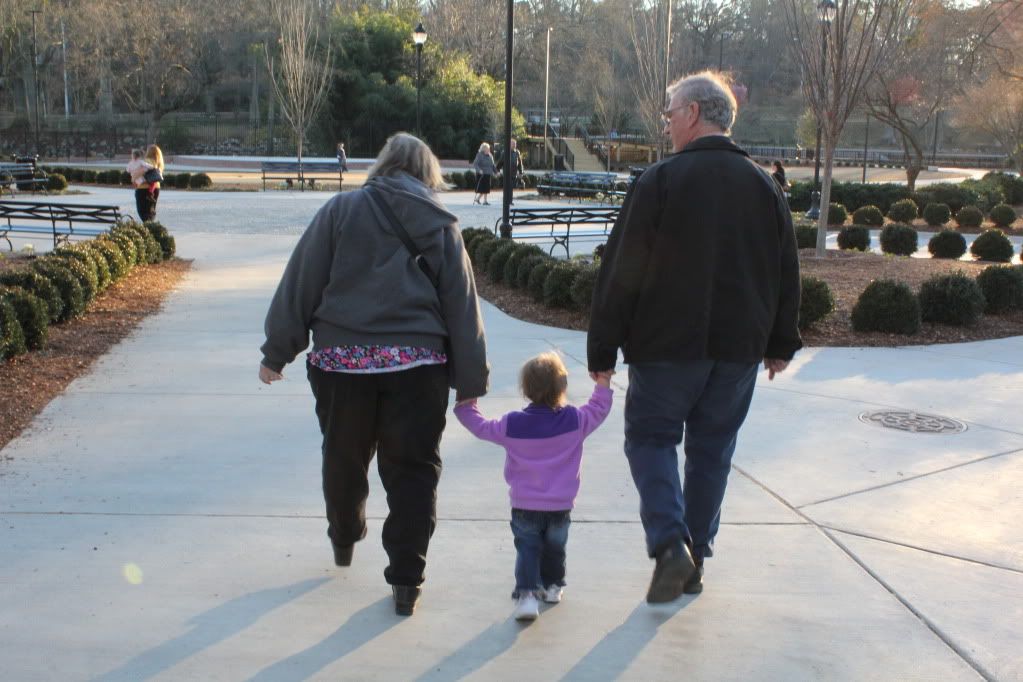 Awe. Bonding with my parents
After our riding adventures we met up with my parents for lunch and then took M to Pullen Park to play. She got to ride the carousel and an old train they have there. Then, she took Grandpa to the slide area and rode the slide over and over and over. Grandpa tried to take a break and while he was sitting, M started yelling for him to come back and slide with her. She called him by name, "an-pa!! an-pa!!" (Grandpa). He teared up. It's the first time he's ever been called Grandpa. On his 60th birthday. I teared up. I'm so very thankful we made the trip and my parents had a chance to bond with our sweet girl. After swinging on the swings awhile we called it a day and headed back to the hotel suite to bond and cook dinner in- oh ya, the suite had a kitchen. My Dad opened a few more presents and we called it a night when M asked for her bedtime bath.
Monkey Joe's bouncy houses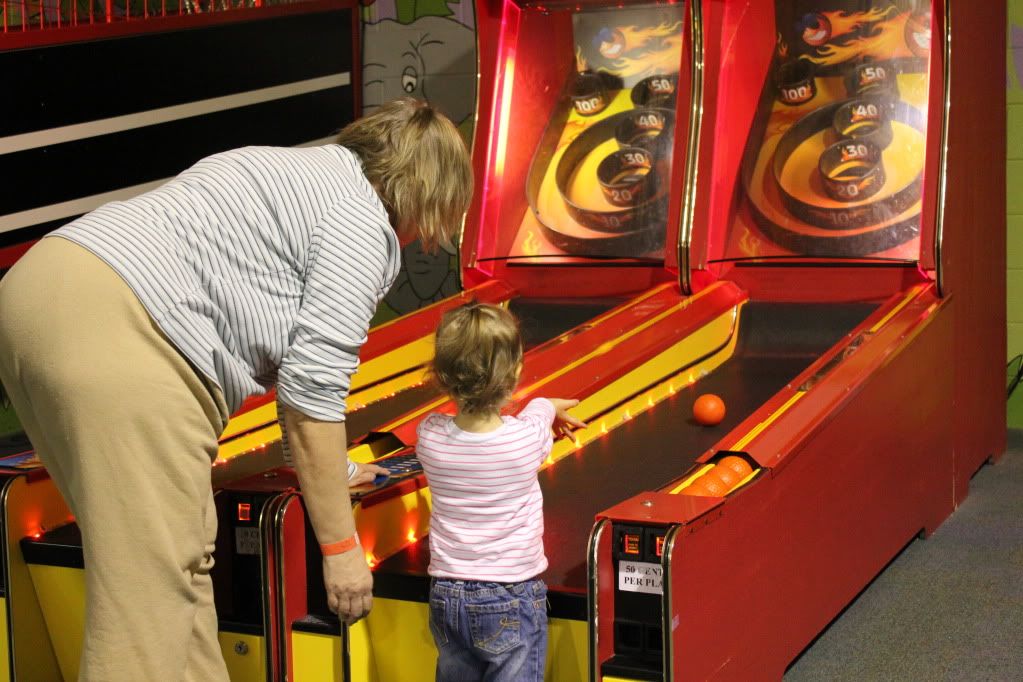 Skee ball with Nana
On Monday, we were disappointed to wake up to rain, but it didn't deter us too much. We met my parents for lunch and then took M to an indoor bouncy house adventure called Monkey Joe's. M was still pretty intimidated by the larger bouncy houses and the slides, but I was able to ride down one slide with her and then we got her into this bouncy room thingy that wasn't too bad. She met a little friend in there who helped teach her how to bounce and what bouncy houses were all about. Then, she played Skee Ball with Tio and Nana before cashing in her tickets for some bracelets. After bouncing a bit we rode up to the town my parents live in and drove around a bit before having dinner at a local pizza shop. My Dad watched some of the car race during dinner and then we said goodbye to him and my siblings as we wouldn't see them the next day. We were supposed to go to my sister's soccer game, but it got cancelled due to the rain. :( It was so hard to see my Dad say goodbye to M...broke my heart (as I'm sure it did his). I think we'll be seeing him and family again soon when they come to meet Baby 2.0 this summer at least. The not knowing part is the worst.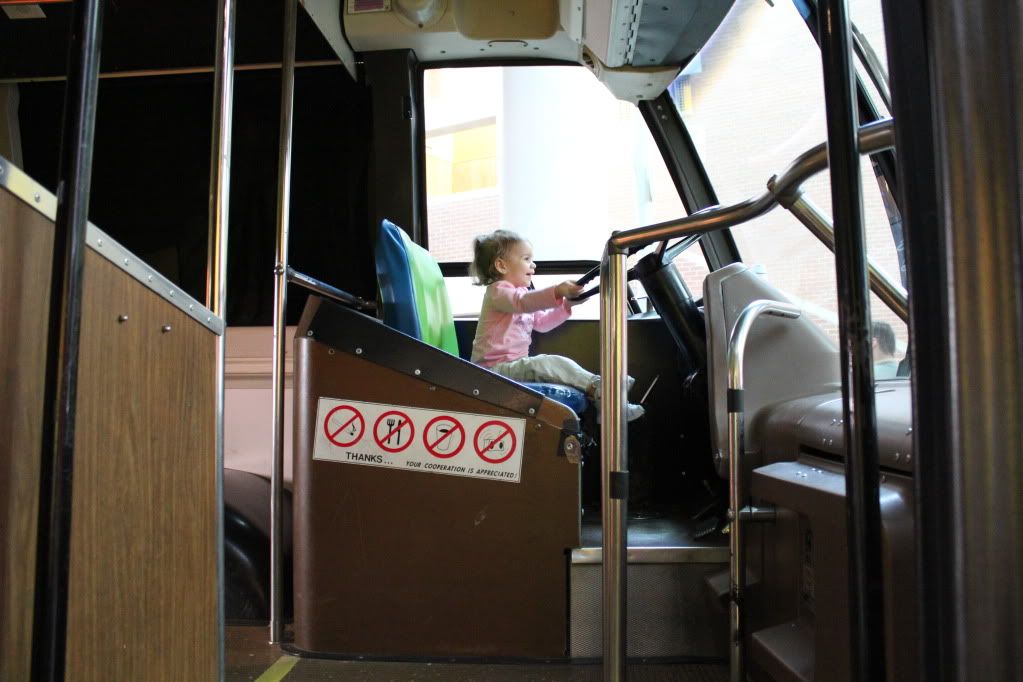 Bus driver- Marbles Museum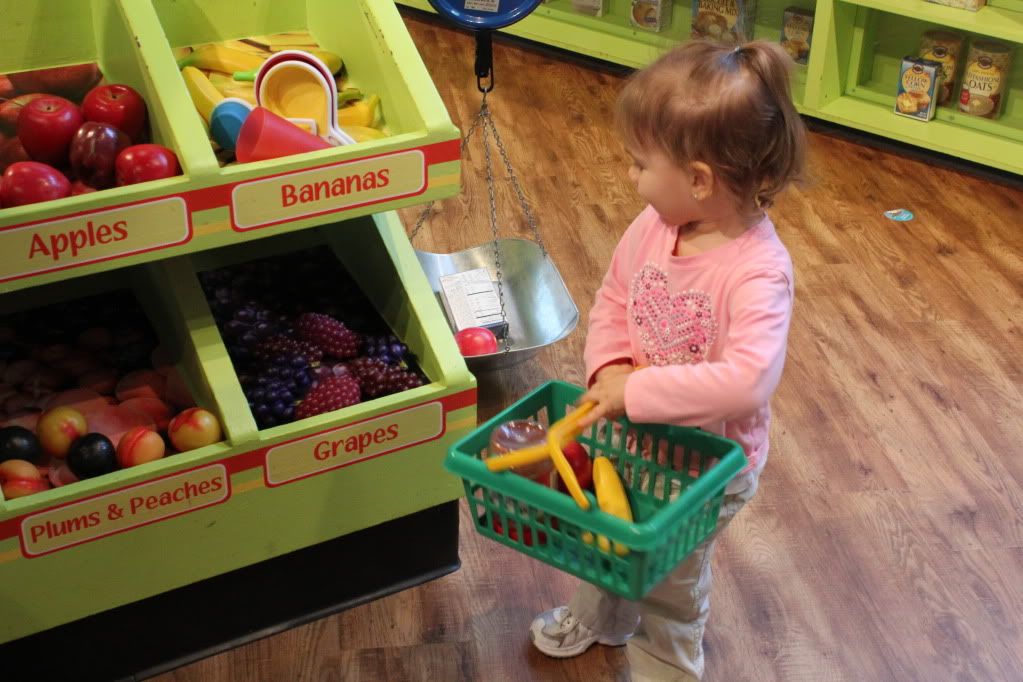 Shopping at the museum
Playing in the splash center with Nana. Marbles Museum
My mom was able to get Tuesday off to spend with us before our flight home and we had some beautiful 66 degree weather to enjoy. After dropping Pete off at the airport in the morning, we headed back to the hotel to meet my mom, pack the last of our things, and check out. Then, we headed to a really cool museum for kids 10 an under that an on-line friend recommended to me. It was AWESOME and absolutely perfect. M had an absolute blast there as did my mom playing with her and showing her things. It was good that we were there on a weekday, too, because it wasn't overly crowded even with the few field trips that were there along with us. After the museum, M conked out for her nap, so we went out to lunch for one last time at my beloved and much missed Chick-fil-A. Mmmmm. Then, we strolled the mall, did some window shopping, I got a maternity outfit for taking M's two year photos and then we had to say goodbye. I feel so bad for my mom in that she isn't as close to M as my mother-in-law is simply due to distance. I know it's hard for her to only see her sporadically and that the videos and photos I post on Facebook just aren't the same. It was even more heartbreaking this time as after my mom closed the door to the mini-van after saying goodbye, M called out for her and kept saying so sadly, "Nana! Bye! Mu-ah." Hopefully soon we'll be able to figure out a way to Skype with them even if they have to go to the library to do it (there is no high speed interent on their street still).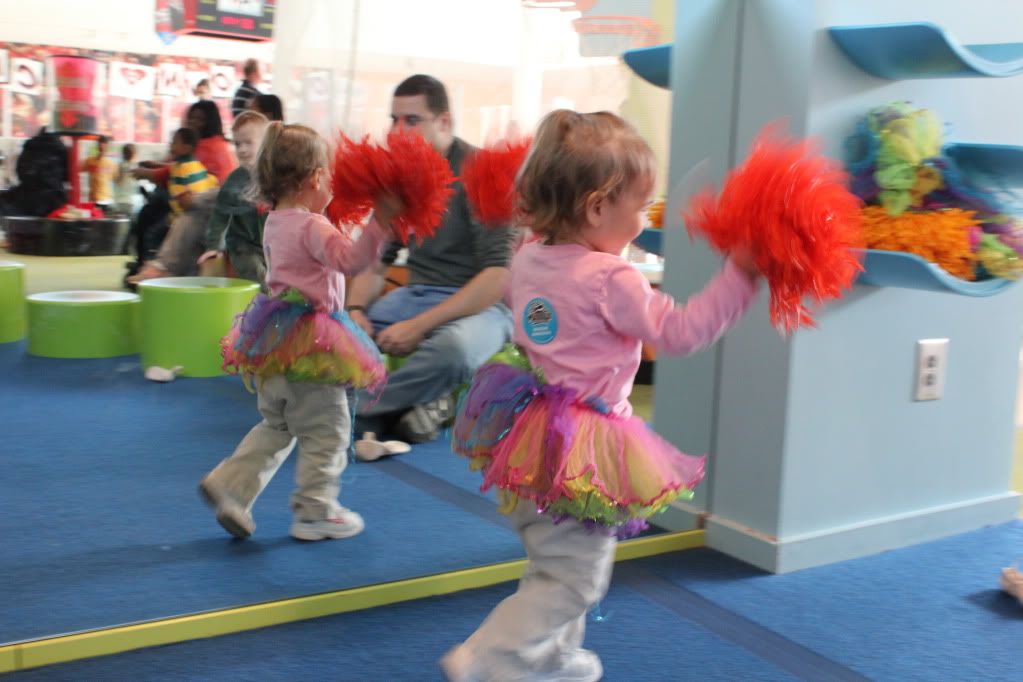 Playing dress up. Marbles Museum
Surfing with Papi- kid has balance already!
Besides two horrendous flights down there (thank you 30mph wind gust and turbulence), our trip was amazing. I'm glad we were able to do something so special for my Dad. Happy 60th Daddy!! We love you!