I know this post is horribly delayed considering I did Part 1 months ago and we traveled way back in August, but at long last here it is:
Day 1: We visited Horseshoe Bay Beach which we heard had an excellent cove for kids to swim in. Boy were they right! This beach is heaven and it was so tempting to just ignore the rest of the island the whole trip and just be beach bums all three days. This beach was postcard perfect, clear blue water, perfect pink sand, to die for beautiful. The cove was perfect to take M in swimming as the huge rocks blocked the waves, so it was calm and the water was the perfect temperature. We had lunch at the small cafe they had on the beach and built M's first sand castles in between swims. I will say that getting from the dock to the beach was no small feat (and probably part of why we didn't go back). We opted to not do any cruise tours on our trip this time since we had 3 days to figure out the island and explore it on our own. I looked up the public transit system and popular sites beforehand. We bought 3-day bus/ferry passes (you can also buy 2 and 1 day passes or take a cab, but cabs are uber expensive) for our stay. I must say that during the week, the buses were jam packed (commuters, students, and tourists) with no A/C and it was at least a 20 minute ride each way from boat to beach. Taking a ferry was also an option with the passes as well. The beach was at the bottom of a HUGE hill so getting there was easy, but getting out again = exhausting while lugging all beach gear and baby. You could pay a small fortune for a cab ride from the bottom of the hill to the bus stop at the top, though (ya, no thanks!). The beach had a great bathroom with showers and changing rooms as well. I highly recommend you make a stop here if you go to Bermuda.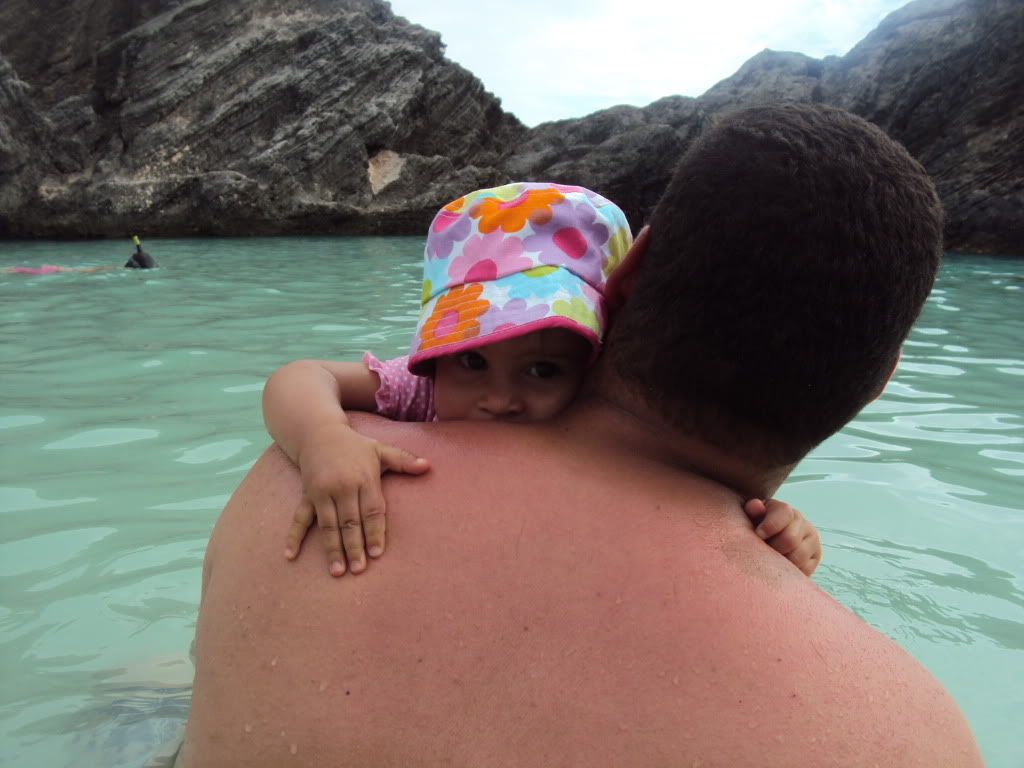 Don't let me go, Papi!! She was scared at 1st, but loved it after a few minutes
The cove we swam in
The main beach
Day 2: On our second day in Bermuda we teamed up with the rest of the family we were traveling with for our first adventure of the day and went to the Crystal Caves. After a ferry ride and yet another adventurous bus ride there, we arrived. There were two caves you could tour, but we only did one of them. I kind of started to freak out as we began our decent into the cave (I watch too many scary movies about caves), but my fears were uncalled for. I felt safe the whole time we were down there and the rock formations were beautiful. You would think it would be super cool in the cave and while it was colder than the land above sea level, the air in the cave was super thick and sticky. We came out sweaty afterwards! At one point during the tour, the guide turned off all the lights in the cave. FREAKY! I wouldn't have wanted to be the small boys that discovered it in that pitch black darkness. Eek! After the cave tours, we had lunch at their little outdoor cafe and then our group split up. Some of my in-laws went back into town to do some shopping and the rest of us went to the Bermuda Zoo and Aquarium. Mariela LOVED the aquarium and especially the walruses they had there that she could get super close to (she could touch the glass they were leaning against). The zoo was small, but undergoing a lot of construction and we still enjoyed it. It was definitely walkable with a small toddler. After our Zoo/Aquarium adventure we had to wait forever for a bus with enough room to take us back into town to take the ferry home. We JUST made it in time to catch the last ferry before we'd have to wait an additional hour for it. PHEW!! Once we got back to the dock, we boarded the ship and got ready for dinner. I will say that it was so humid in Bermuda (not sure if it was from the Tropical Storm passing by out to sea) you got drenched everytime you walked outside even without making any physical effort.
Streets of Hamilton
Giant lobster
love this pic of M with her Abo & Abuela
Day 3: Our final day docked in Bermuda and we decided to take a cab tour of the island with my parents-in-law while my other in-laws went to the beach (see Day 1). We figured we'd have the cab drop us off at the beach and we could meet up with them. The first small feat of the day was negotiating with the cab driver the length and fare for the tour. It was actually pretty easy and saved us tons of money vs each of us buying a separate ticket to take the tour the cruiseline offered. We never once felt unsafe. Our cab driver/tour guide was phenomenal! He showed us everything we had hoped to see about the island and more. We stopped at Gibb's Lighthouse, Fort Scaur, a rich person's home worth a cool $2-3 million on the inside (because he knew the guest that was staying there!), Somerset Bridge (world's smallest draw bridge), a church that used to be someone's home with just two rooms, the rich neighborhoods where the stars lived, and beautiful spots to take photos along the road. During our tour he also told us everything we wanted to know about Bermuda, it's history, their culture, government (they are British owned), cost of living, cost of housing, and then some. I found it very interesting that all of the houses on the island have roofs designed to collect rain water. The roofs are designed with special grooves in them and there are pipes that run from the roof to a storage tank underground where they can use the water in their homes for cooking, cleaning, toilets, showers, etc. They have these pipes and storage tanks instead of the gutters we have. It makes sense since unsalinated water is a hot commidity on an island and they don't have the pollution we deal with here in the states! After our tour we were pretty tired/hot/hungry, so we skipped the beach and did a little shopping outside the pier for some gifts and souvenirs and then boarded the ship for a cool shower and late buffet lunch. (Gotta love the food on a cruise ship available 24/7!)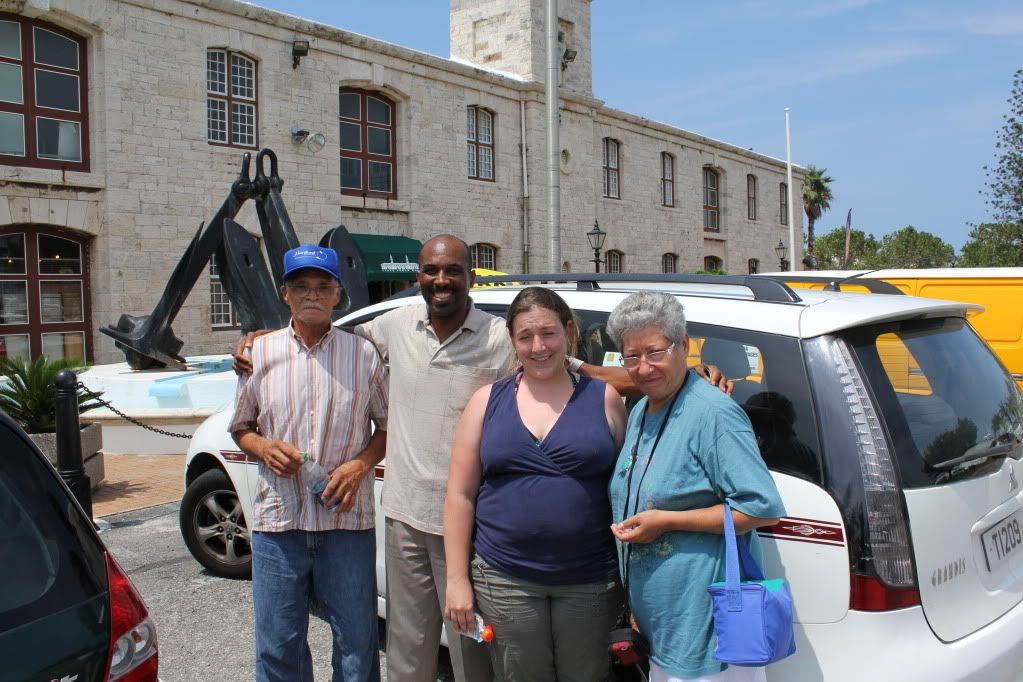 My in-laws and I with our tour guide :)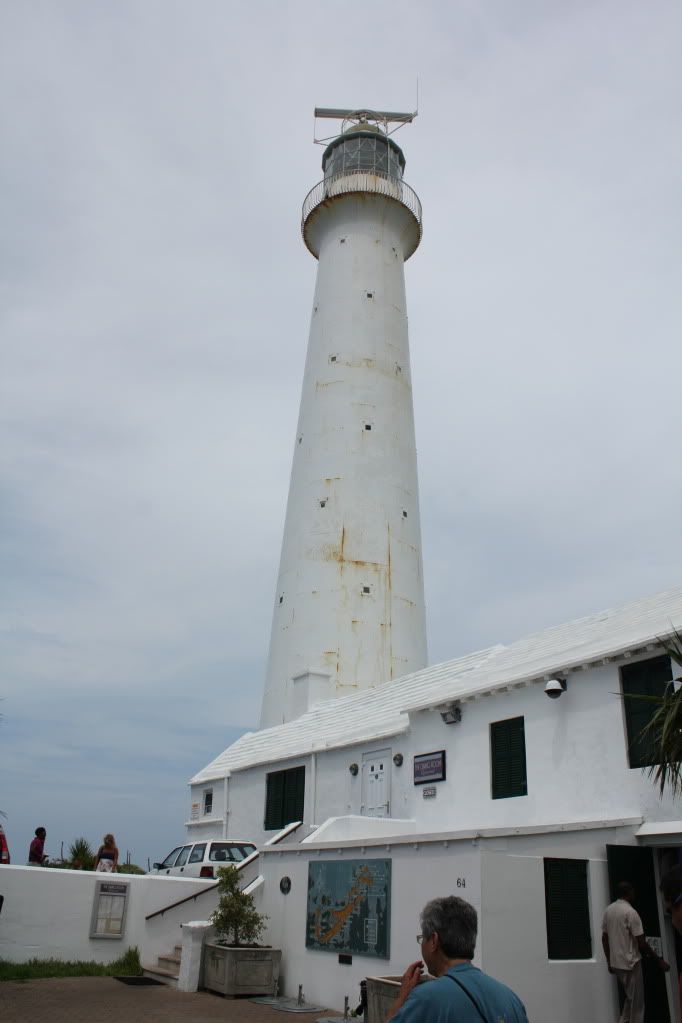 Gibbs Lighthouse
World's smallest draw bridge
Fort Scaur
They hold weddings under these arches in Bermuda. :)
So, that was our trip in a nutshell! We had a wonderful time and a family vacation wasn't that bad as the ship was big enough we had some separation and didn't feel the need to do
everything
together.