M's first birthday is fast approaching and after going a little crazy with the decor for her baby Minnie Mouse themed partay I decided it was time to reel in the spending. I priced fondant cakes for Alexi's 30th birthday back in September and was shocked at the sticker prices, but still wanted something nice for M's party. After doing some research and talking to a few people I know that are avid bakers, I decided to do a test run with fondant and see how it turned out.
I made a lump of fondant!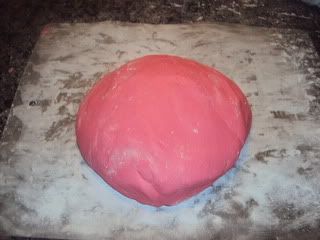 I did my test run just after Valentine's Day by making a test cake for Alexi. I made
marshmellow fondant
using the recipe from Wilton's website and was surprised at how easy it was. I even dyed it pink (after melting the marshmellow, but before adding in the confectioners sugar) with no problems. If you attempt fondant yourself, just make sure you put lots of Crisco on your hands (take off any jewelry if you don't usually while cooking) and on all sides of your fingers as the marshmellow is super sticky before you mix in a decent amount of confectioners sugar to form more of a dough ball.
My cake turned out a hundred times better than I thought it would even if it was a bit lop-sided (I bought a gadget that will eliminate that issue going forward). Making the fondant was easy and even working with it and rolling it out was, too. The hard part was getting the rolled fondant from counter to cake. I'm not going to lie...it took me 5 attempts and a few swear words before I got it. Lucky for me I have enough fondant leftover to do one more practice run before her party to make sure I have my technique down. The marshmellow fondant doesn't taste that bad, either. I added almond flavoring to it and it was a little too sweet, but definitely edible. I also used Wilton's recipe for
buttercream frosting
for the outside of the cake and it was delicious.
My 1st attempt at fondant...

For the main two tier cake I plan on making a butter cake with strawberry cream filling on the bottom layer and raspberry filling on the top layer. This cake will be for the party guests. For M, I'm going to make a smash cake without the fondant. I'm going to make a
Vanilla Cake
with Whipped Frosting off of
http://www.wholesomebabyfood.com's/
website. I'll color the frosting pink to match the larger cake and I think I'll probably put a little raspberry filling in the center for her.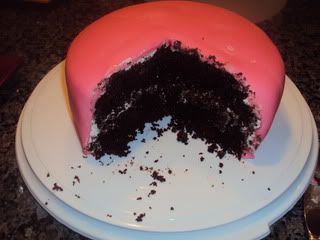 I'll definitely post the pictures of the cake I make for her party...wish me luck!